Recipes
Filet de Boeuf au Vin de Marcillac (Filet of Beef with Marcillac Wine Sauce)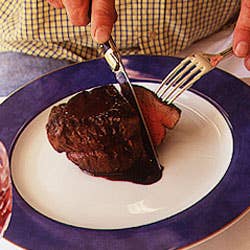 We came across these steaks in Laguiole, France—a small French mountain town known for its superlative steak knives—where we enjoyed them with a bacon-spiked potato cake.
Ingredients
Extra-virgin olive oil
2 medium carrots, peeled and chopped
2 stalks celery, chopped
1 small yellow onion, peeled and chopped
3 tbsp. cognac
1 cup red wine vinegar
3 cups marcillac, cahors, or other hearty red wine
3 cups veal stock
Cracked black pepper
4 (6-oz.) beef filets, each about 1½" thick
Coarse salt
2 tbsp. butter, cubed
Instructions
Step 1
Heat 1 tbsp. oil in a heavy pot over medium heat, add carrots, celery, and onions, and saute until browned, about 5 minutes. Add cognac and carefully ignite with a kitchen match; when flames die out, add vinegar, wine, veal stock, and 1 tbsp. pepper. Reduce heat to low and reduce sauce by three-quarters, about 1 ½ hours. Strain, discard solids, and set sauce aside.
Step 2
Season filets to taste with salt. Heat 1 tbsp. oil in a heavy skillet over high heat until hot. Add filets and cook for 7 minutes on each side, then transfer to four plates. Reduce heat to medium, add sauce to skillet, whisk in butter, then spoon sauce over filets.