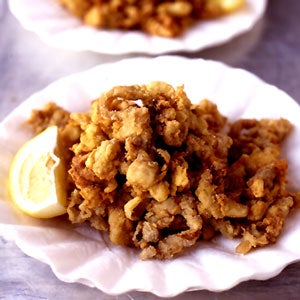 This recipe is based on the one used at The Village Restaurant in Essex.
Fried Clams
Fried clams like these are found in clam shacks all over Cape Ann, Massachusetts, where steamers are king.
Ingredients
3 lb. lard
1 1⁄4 cups cornflour
1⁄3 cup all-purpose flour
1 tsp. salt
1 egg
1 1⁄2 cups milk or a 12-oz. can of evaporated milk
1 lb. soft-shell clams, shucked
Instructions
Melt lard in a deep, heavy pot over medium heat to 375° on a candy thermometer.
Meanwhile, sift together cornflour, all-purpose flour, and salt into a bowl, then set aside.
Beat egg together with milk in a bowl; set aside.
Drain liquid from clams. Swish 1 clam at a time in milk, then dredge in cornflour mixture. Fry in batches until golden brown and crisp, 30-40 seconds. Drain on paper towels. Season to taste with salt. Squeeze a fresh lemon over clams, if you like.