Fried Rabbit and Vegetables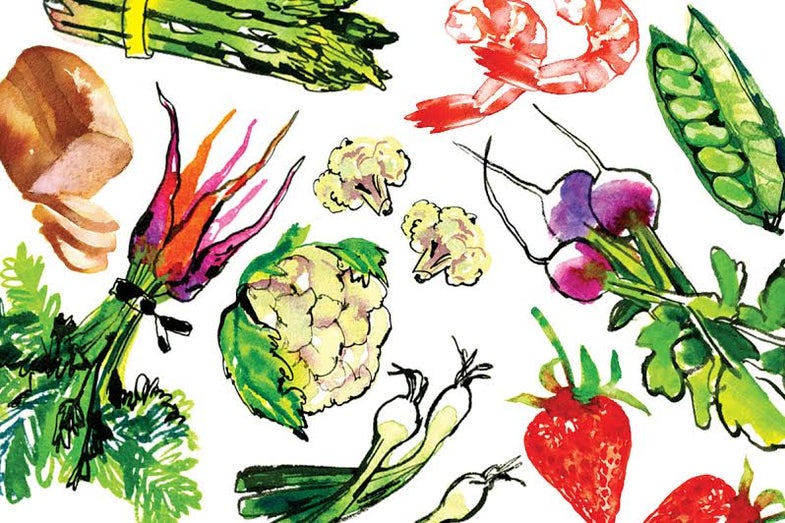 Each element of this dish, our version of one served at Omero in Florence, should be eaten immediately after it's fried, while still crisp.
(Fritto Misto di Coniglio e Verdure)
Fried Rabbit and Vegetables
This recipe is a twist on the Italian classic fritto misto with the use of rabbit.
Ingredients
1 (3-lb.) whole rabbit
Peanut oil
4 baby artichokes, trimmed, quartered, and put into a bowl of water with 1 tbsp. lemon juice
1 medium russet potato, peeled and cut into 1⁄3 " × 3″ sticks
1 small yellow onion, peeled and sliced into 1/3″-thick rings
1 small yellow squash, halved lengthwise, seeded, and cut into 1/2 " × 3″ sticks
1 small zucchini, halved lengthwise, seeded, and cut into 1/2 " × 3″ sticks
4 eggs, beaten
2 cups flour
Salt
2-3 lemons, halved crosswise
1 1⁄4 cups light beer
8 zucchini flowers
10 sage leaves
Instructions
Using a sharp knife, cut off hind legs of rabbit, then cut each in half at the joint. Cut under shoulder blades to remove forelegs. Trim off rib cage on either side of loin. Cut rabbit into 16 chunks, leaving bones in. Reserve backbone, ribs, and scraps for Rabbit Stock, if you like. Put rabbit into a bowl of ice water and set aside.
Pour oil into a heavy medium pot to a depth of 2″ and heat over medium heat until temperature registers 350° on a candy thermometer.
Meanwhile, put artichokes, potatoes, onions, squash, and zucchini into separate bowls of ice water and set aside to let soak for 15 minutes. Place eggs and 1 cup of the flour in 2 separate shallow dishes. Working in batches, remove artichokes, onions, squash, and zucchini from water, dredge in flour, shaking off excess, coat in eggs, and then fry until golden (rabbit takes 7–8 minutes; vegetables, 2–3 minutes). Fry potatoes, without dredging, until golden, about 2 minutes. Transfer each item to paper towels when done. Season with salt and serve with a squeeze of lemon.
Whisk beer and remaining flour together in a bowl. Coat sage and squash blossoms in batter, fry until golden, about 1 minute, drain, season, and serve immediately.