Green Tea Matcha Christmas Tree Cookies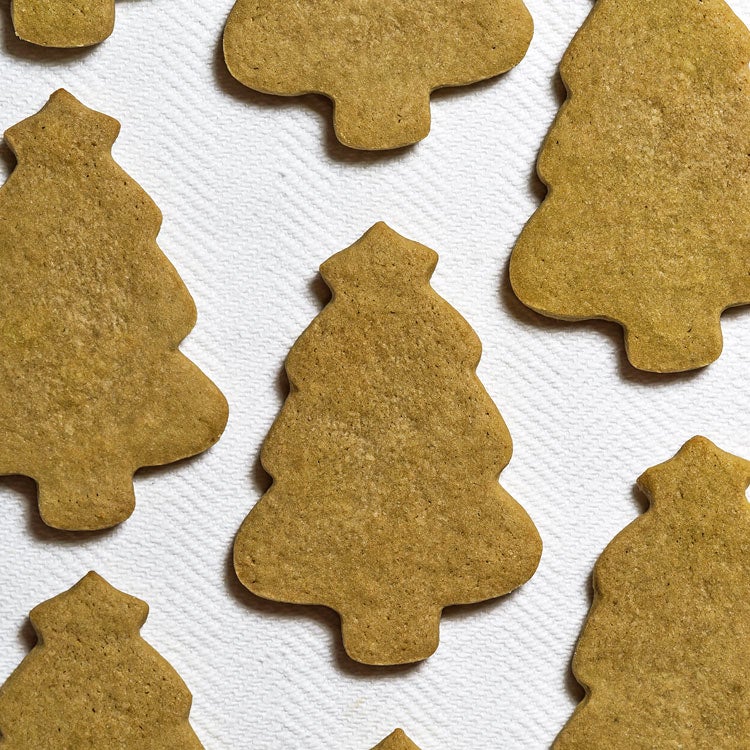 This recipe, from Tiny Urban Kitchen blogger Jennifer Che, appeared in our 2012 Cookie Advent Calendar. Jennifer says: "I have a weakness when it comes to anything made with matcha (Japanese green tea powder). Made from shade-grown tea leaves, it has a deep, rich flavor and packs a ton of antioxidants. I love to use the tasty green powder to make cute Christmas tree cookies for the holidays."
Green Tea Matcha Christmas Tree Cookies
This recipe, from [Tiny Urban Kitchen](http://www.tinyurbankitchen.com/) blogger Jennifer Che, appeared in our [2012 Cookie Advent Calendar](https://www.saveur.com/cookie-advent-calendar-2012/). Jennifer says: "I have a weakness when it comes to anything made with matcha (Japanese green tea powder). Made from shade-grown tea leaves, it has a deep, rich flavor and packs a ton of antioxidants. I love to use the tasty green powder to make cute Christmas tree cookies for the holidays."
Yield:
makes about 3 dozen 3 1/4″ trees
Ingredients
3 ¼ cups flour
2 tbsp. matcha powder
1 ½ tsp. baking powder
1 tsp. Dutch-process cocoa powder
½ tsp. kosher salt
1 cup sugar
20 tbsp. unsalted butter, softened
1 tbsp. milk
1 ½ tsp. vanilla extract
1 egg
Instructions
Whisk together flour, matcha powder, baking powder, cocoa, and salt in a bowl; set aside. In another bowl, beat sugar and butter on medium-high speed of a hand mixer until pale and fluffy, about 3-4 minutes. Add milk, vanilla, and egg, and beat until smooth. Add dry ingredients, and mix until just combined. Transfer to a work surface and shape into a disk; wrap with plastic wrap and refrigerate until firm, at least 2 hours or overnight.
Heat oven to 375°. Transfer dough to a floured work surface, and using a rolling pin, roll until ¼" thick. Using a 3 ¼"-long Christmas tree cutter, cut out cookies, and place 2″ apart on parchment paper-lined baking sheets. Bake until edges are lightly golden, about 10 minutes.