Djej Mechoui (Grilled Chicken with Moroccan Spices)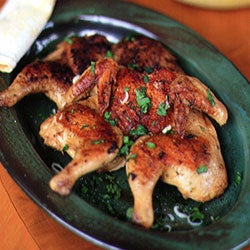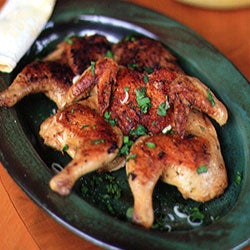 In Morocco, cooks rub chicken (poussins, about 1 lb. each, are best) with an aromatic paste, like the one in this recipe, before grilling. It's a simple but wonderful way to add flavor.
Djej Mechoui (Grilled Chicken with Moroccan Spices)
Rubbing the chicken with an aromatic paste before grilling adds a wonderful flavor to this dish.
Ingredients
3 scallions, white ends only, chopped
1 clove garlic, peeled
2 tbsp. fresh cilantro, chopped
2 tbsp. fresh parsley, chopped
1 tsp. salt
1 1⁄2 tsp. sweet paprika
1 pinch hot paprika
1 1⁄2 cups ground cumin
1⁄4 cup butter, soft
4 poussins or 2 small chickens
Instructions
Crush the scallions, garlic, cilantro, parsley, salt, sweet paprika, hot paprika, and cumin with a mortar and pestle. Blend in butter.
Wash poussins or chickens; split them down the back and flatten; dry well; and rub inside and out with butter paste. Let stand at least 1 hour.
Preheat grill, then cook chicken skin side up. Turn after 2 minutes and baste with any extra paste. Continue to turn and baste until skin is crisp and flesh is firm.