Recipes
Filet de Bouef Grillé avec Mignonnette de Poivre (Grilled Filet of Beef with Pepper Sauce)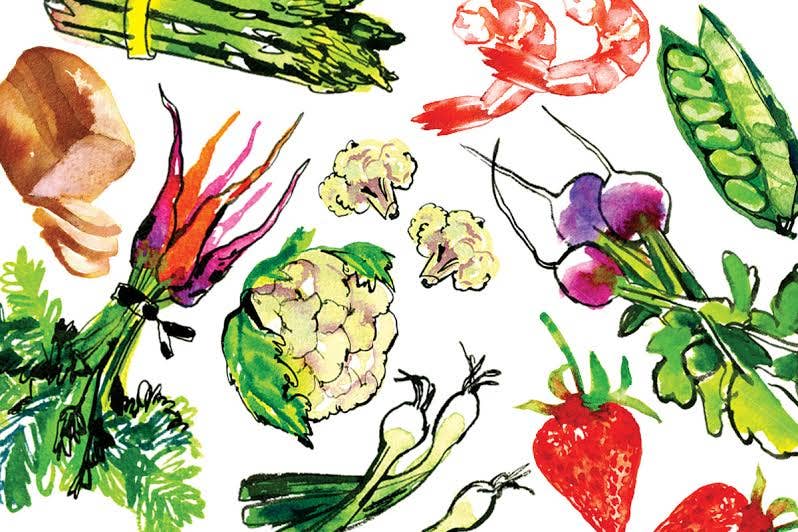 French chef Joel Guillet served us his Provençal version of the classic steak au poivre when we visited him, years back, at Le Mas du Langoustier, on France's Île de Porquerolles, off the Mediterranean coast near Toulon.
Ingredients
1 lb. Idaho potatoes, peeled and quartered
Salt
2 tsp. black peppercorns
2 fresh rosemary branches, about 8" long
2 (6-oz.) beef filets, about 1¼" thick, each cut into 3 pieces
5 tbsp. extra-virgin olive oil
2 tbsp. fresh chives, finely chopped
1 large shallot, peeled and finely chopped
3-4 scallions, white parts only, chopped
1 large tomato, seeded and finely diced
Instructions
Step 1
Place potatoes in a medium pot. Cover with salted water and simmer over medium-high heat until tender, 15–20 minutes. Drain, then smash with a fork, breaking the potatoes up into small pieces. Set aside.
Step 2
Wrap peppercorns in a clean dish towel. Crush by pressing firmly with the bottom of a heavy skillet or tapping with a mallet.
Step 3
To make brochettes, strip most of the leaves from rosemary branches. With a skewer, make a hole through each piece of meat. Push rosemary branches through holes, threading 3 pieces of meat on each branch.
Step 4
Heat 2 tbsp. oil in a cast-iron skillet over medium heat. Add potatoes. Cook, stirring, until golden, about 5 minutes. Add chives, season with salt, then transfer to a platter.
Step 5
Heat 1 tbsp. oil in the same skillet over medium-high heat. Add brochettes and cook until brown, 1–2 minutes on each side (for medium rare). Place on potatoes, covering loosely with foil to keep warm.
Step 6
Reduce heat to medium, and add remaining oil, crushed pepper, and shallots. Cook, stirring, for 1 minute, then add scallions and cook for 30 seconds more. Remove pan from heat and stir in tomatoes. Season sauce with salt and spoon around brochettes.