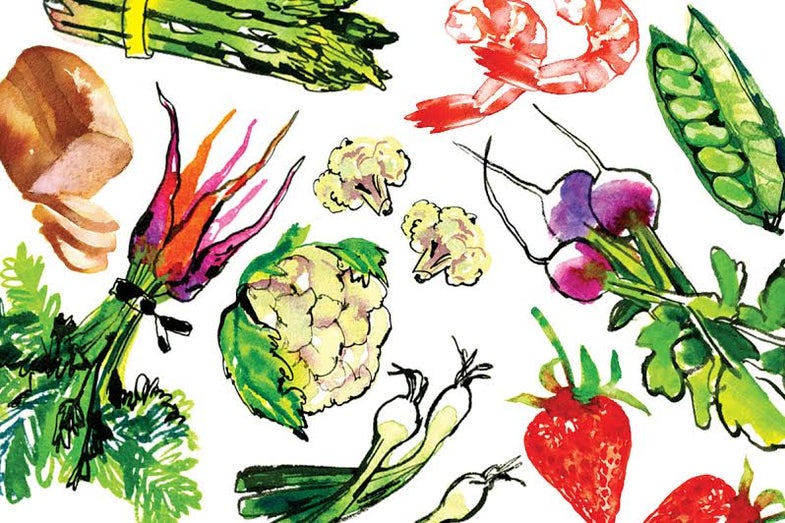 The name means "fermented fish with coconut milk", but Americans may find this dish more reminiscent of chili—even though it is served as a condiment with rice and vegetables. (It is proper to eat a small amount of each—the prahok k'ti, the rice, and some vegetables—in every bite.)
Ground Pork and Chiles
The name means "fermented fish with coconut milk", but Americans may find this dish more reminiscent of chili—even though it is served as a condiment with rice and vegetables.
Yield:
makes About 2 Cups
Ingredients
7 dried New Mexican chiles, stems removed
2 Tbsp. tamarind pulp
1⁄2 cup Tuk Prahok
1 1⁄4 cups coconut milk
2 Tbsp. sugar
1 Tbsp. vegetable oil
15 pea eggplants or 4 small Thai eggplants, seeded and diced
1⁄2 lb. ground pork
Instructions
Rinse chiles, then place in a medium bowl, cover with hot water, and set aside until soft, about 15 minutes. In another medium bowl, dissolve tamarind pulp in 5 tbsp. hot water and set aside for about 15 minutes.
Press tamarind mixture through a fine sieve, scraping pulp from outside of sieve. Discard seeds and fiber. Drain chiles and remove and discard veins and seeds. (It is best to wear rubber gloves when handling chiles because oils can irritate skin). Place chiles, tamarind, tuk prahok, coconut milk, and sugar in a blender and purée until smooth, then strain through a medium sieve, pressing gently with the back of a spoon.
Heat oil in a medium skillet over medium-high heat. Add eggplant and cook, turning, until golden, about 3 minutes. Using a slotted spoon, transfer eggplant to a bowl. Add ground pork to skillet and brown, breaking it up with the back of a spoon, for about 3 minutes.
Reduce heat to medium and stir in chile mixture. Simmer, stirring frequently, until sauce thickens and oil separates, about 10 minutes (sauce should sizzle slightly as it cooks). Remove sauce from heat and stir in eggplant. Transfer to a medium bowl and serve with white or jasmine rice and an assortment of raw vegetables such as napa cabbage, long beans, and cucumbers.