Lamb Braised with Wild Garlic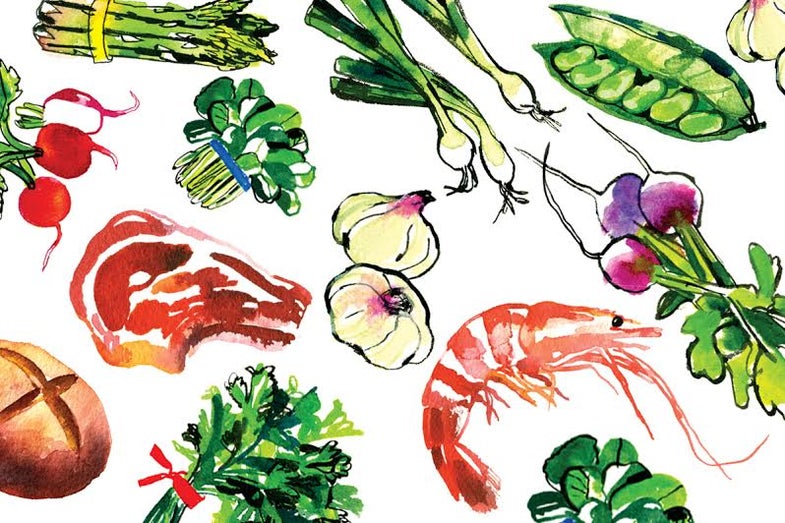 This recipe comes to us from Darina Allen's Irish Traditional Cooking: Over 300 Recipes from Ireland's Heritage (Kyle Books; 2012). Wild Garlic has been used in Ireland as a condiment or as part of a relish since earliest times. There are two types: wild garlic (Allium ursinum), which grows in shady places and along the banks of streams and in undisturbed mossy woodland, and snowbells (Allium triquestrum), which resemble white bluebells and usually grow along the sides of country lanes. Wild garlic is also delicious mixed with mashed potatoes or added to cooked greens or salads.
Yield: serves 10
Ingredients
1 leg of young lamb (approx. 3–4 lbs.)
Oil, butter, or lamb fat
Salt and freshly ground pepper, to taste
3-6 wild garlic plants, picked preferably just before they flower
1 lb. scallions, peeled
3-4 small potatoes (approx. 1 lb.), peeled
Instructions
Brown the lamb in a little oil, butter, or lamb fat. Season with salt and freshly ground pepper. Chop up the wild garlic plants and press into the skin of the meat with the herbs (if using).
Sauté the scallions and potatoes in the same fat and then put them around the meat and herbs in a heavy cast-iron casserole. Cover with a tight fitting lid.
Cook in a moderate oven at 350°F for 1½–2 hours or until cooked through.
Strain off the juices and pour off the fat. The juices can be served separately as a gravy. A little good stock may be added if not enough juices are left in the pot. More chopped fresh wild garlic may be added to the gravy, if you wish.