Recipes
Antico Pandolce Genovese (Old-Fashioned Genoese Sweet Bread)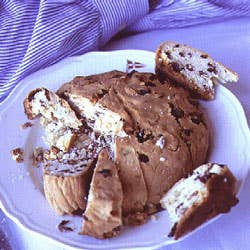 Although light, airy adaptations of this Christmas sweet are now in vogue, this recipe from Marco and Maurizio Profumo's Pasticceria Villa di Profumo, a pastry shop on Genoa's famed via Garibaldi, produces this more traditional dense and crumbly version.
Ingredients
½ tsp. active dry yeast
½ cups warm milk
½ cups butter, softened, plus additional for greasing
¾ cups sugar
1 tbsp. fennel seeds
½ tsp. ground coriander
1 egg, lightly beaten
2 tsp. vanilla extract
4 tsp. orange flower water
3½ cups flour
½ cups dried currants
⅓ cups golden raisins
⅓ cups finely chopped candied orange rind
⅓ cups pine nuts
Instructions
Step 1
Dissolve yeast in milk in a small bowl. Set aside until foamy, about 10 minutes.
Step 2
Meanwhile, beat butter in an electric mixer and gradually add sugar, beating until mixture is light and fluffy. Stir in fennel seeds and coriander, then add egg, vanilla, and orange flower water, and mix thoroughly. Add milk and dissolved yeast and mix. (Mixture may appear slightly curdled.)
Step 3
Gradually add flour, mixing thoroughly. When dough is smooth, mix in currants, raisins, orange rind, and pine nuts (dough will be moist). Transfer dough to a large greased bowl. Cover with a clean dish towel and set aside in a warm place to rise for 3–4 hours. (Dough may only rise a little; this is a dense bread.)
Step 4
Preheat oven to 375°. Wet hands (dough will be sticky) and transfer to a greased cookie sheet. Shape into a 6" round and bake until golden, 45 minutes to 1 hour. Cool completely. To serve, cut or break into small pieces and serve with sweet wine, if desired. (Store in an airtight container.)