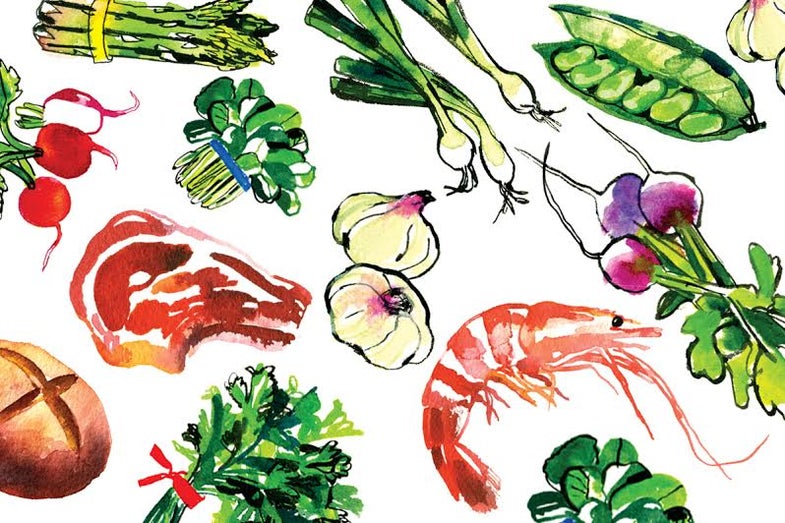 (Tiramisu con l'Arancia)
For this unique and delicious tiramisu, we like imported savoiardi, Italian ladyfingers named for the 17th-century Savoy dynasty.
Yield: serves 8
Ingredients
1 lb. mascarpone
2 1⁄2 cups heavy cream
4 Tbsp. sugar
2 oranges (blood oranges, if available)
5 Tbsp. Cointreau
1 package savoiardi, about 40 cookies
Instructions
Combine mascarpone and 1 cup of the cream in a mixing bowl. Beat with an electric mixer until fluffy. Slowly beat in sugar. Add juice of 1 orange, reserving peel for garnish, and 1 tbsp. of the Cointreau. Beat until thick.
Stir remaining 1 1⁄2 cups cream and 4 tbsp. Cointreau together in another mixing bowl.
To assemble, dip 20 of the savoiardi into cream–Cointreau mixture and arrange in a single layer like the spokes of a wheel on a serving plate. Top with 1⁄3 of the mascarpone mixture. Dip remaining savoiardi and alternate with 2 more layers of mascarpone mixture. Decrease the number of savoiardi forming each layer to make a dome-shaped cake; finish with mascarpone mixture on top.
Cover loosely with plastic wrap and refrigerate at least 3 hours. Slice remaining orange into thin rounds and arrange around edge of plate. Sprinkle tiramisù with grated zest of reserved orange peel and serve chilled.