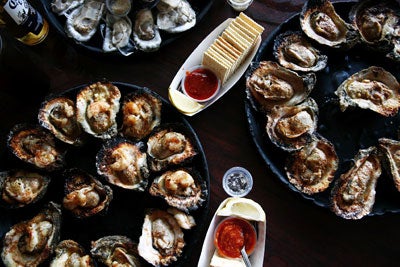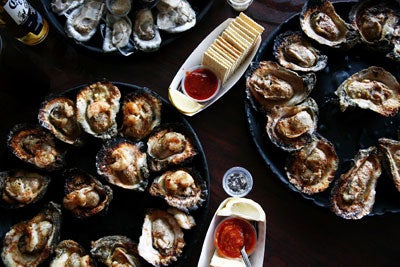 The cooks at Gilhooley's in San Leon, Texas, grill their oysters with parmesan; broiling them works, too. Here's our step-by-step gallery on how to shuck oysters.
Oysters Gilhooley
This recipe hails from Gilhooley's in San Leon, Texas. If you have oysters on hand for holiday appetizers, try grilling or broiling them with garlic, parmesan, and Tabasco.
Ingredients
8 tbsp. unsalted butter, softened
1 tbsp. worcestershire
1 tbsp. finely chopped garlic
1 1⁄2 tsp. Tabasco
12 oysters, shucked, on half shell
12 small shrimp, cooked and peeled
1⁄3 cup finely grated parmesan
Lemon slices, for serving
Instructions
Heat oven to broil; place a rack 3″ from heating element. In a food processor, pulse butter, worcestershire, garlic, and Tabasco until smooth.
Arrange oysters on a foil-lined baking sheet. Top each oyster with a shrimp and some of the butter mixture; sprinkle with parmesan. Broil until oysters just curl, about 5 minutes. Serve with lemon slices.