Panelle (Chickpea Fritters)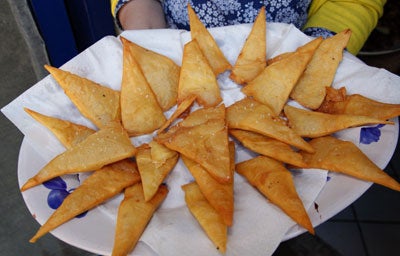 These addictive fritters are a classic street food. This recipe appeared in our March 2011 issue as a part of our special feature, Soul of Sicily
Panelle (Chickpea Fritters)
These addictive fritters are a classic Sicilian street food.
Ingredients
2 1⁄3 cups chickpea flour
Kosher salt and freshly ground black pepper, to taste
Canola oil, for frying
Instructions
In a 4-qt. saucepan, whisk together chickpea flour, salt and pepper, and 3 cups water until smooth. Cook over medium-high heat, stirring constantly with a wooden spoon, until mixture becomes a thick paste, about 6 minutes. Reduce heat to low and continue stirring until mixture pulls away from side of pan, about 2 minutes more. Working quickly in batches, with a rubber spatula, spread 1⁄2 cup of the mixture into a 9″-diameter, 1⁄4″-thick circles on parchment paper or aluminum foil (Keep saucepan warm so that dough remains spreadable.) Let dough disks sit until cool, 15-20 minutes.
When dough disks are cool, peel off paper and stack disks together like pancakes; cut stack into 8 wedges. Pour oil into a 6-qt. Dutch oven to a depth of 2″; heat over medium-high heat until a deep-fry thermometer reads 375°. Working in batches, add wedges and fry, turning occasionally, until golden and crisp, about 3 minutes. Using a slotted spoon, transfer wedges to a paper towel—lined plate and sprinkle with salt. Serve hot.