Recipes
Pilditas Vafeles (Waffle Cones Filled With Sweet Cheese and Berries)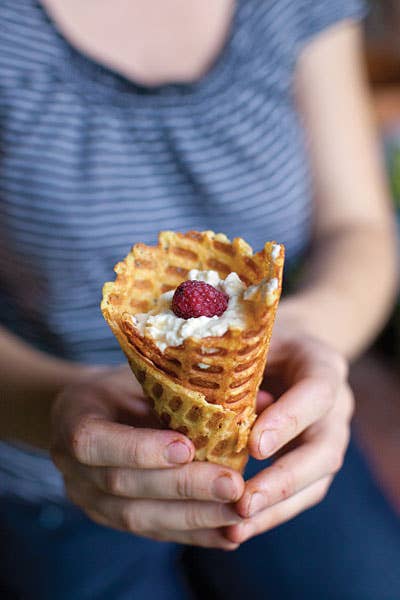 Home cook Maija Kalnina gave us her recipe for this summertime dessert. Fill the cones just before serving to ensure that they stay crisp. This recipe first appeared in our May 2011 issue, with the article Riga Revisited.
Ingredients
For the Waffles
1 cup sugar
14 tbsp. unsalted butter, softened
1 tsp. vanilla extract
5 eggs
1 cup flour
1 tsp. cornstarch
For the Filling
8 oz. farmer's cheese or cottage cheese, drained overnight in a cheesecloth-lined strainer
½ cups sugar
1¾ cups heavy cream
1 tsp. vanilla extract
1 cup raspberries, blueberries, halved blackberries, or quartered strawberries
Instructions
Step 1
Make the waffles: Beat together sugar, butter, and vanilla on medium speed of a handheld mixer until pale and fluffy, about 2 minutes. Add eggs, one at a time, until smooth. Add flour and cornstarch, and mix until just combined; let sit for 10 minutes. Heat a small thin-waffle iron or krumkake maker. Working in batches, cook 2 tbsp. batter until waffles are lightly browned, about 45 seconds. Quickly form waffles into wide, shallow cones; let harden.
Step 2
Make the filling: Combine cheese and sugar in a food processor; process until smooth. Beat cream and vanilla in a large bowl until stiff peaks form; add cheese mixture to whipped cream, and gently fold to combine. Chill.
Step 3
To serve, layer whipped cheese mixture and berries in cones until filled to the top. Serve immediately.