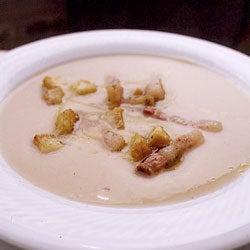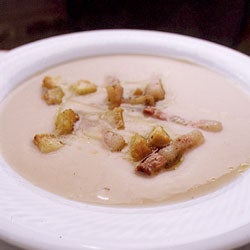 In Tuscany, we savored a version of this soup that used sorana beans—rare and expensive, they're hard to find even in Italy. Zolfini or cannellini beans are a fine substitute.
Puréed White Bean Soup
In Tuscany, we savored a version of this soup that used rare sorana beans, but you can substitute zolfini or cannellini beans.
Ingredients
1 1⁄2 cups dried zolfini or cannellini beans
1 sprig fresh sage
1 sprig fresh rosemary
Salt
Freshly ground white pepper
6 tbsp. fruity extra-virgin olive oil
1 slice country bread, cut into 1⁄2″ cubes
1 oz. pancetta, cut into short, thick strips
Instructions
Put beans in a large earthenware casserole, cover with cold water, and set aside to soak for at least 4 hours or overnight. Drain; then add, sage, rosemary, and 6 cups cold water, cover, and bring to a simmer over medium heat, about 1⁄2 hour. Season to taste with salt, reduce heat to medium-low, and simmer, stirring occasionally with a wooden spoon, until bean skins are tender and interiors are soft, about 1-2 hours more.
Puree beans along with their cooking liquid in a food processor until smooth. (If puree is too thick, thin with a little water or vegetable broth.) Return soup to casserole, season to taste with salt and pepper, and keep warm.
Meanwhile, heat 2 tbsp. of the oil in a small skillet over medium heat. Add bread and pancetta, and fry until bread is golden and pancetta is lightly browned, 6-7 minutes.
Ladle soup into bowls, sprinkle with croutons and pancetta, and drizzle soup with remaining 4 tbsp. oil.