Recipes
Roasted Oysters with Green Tomato Pickle and Cranberry-Horseradish Relish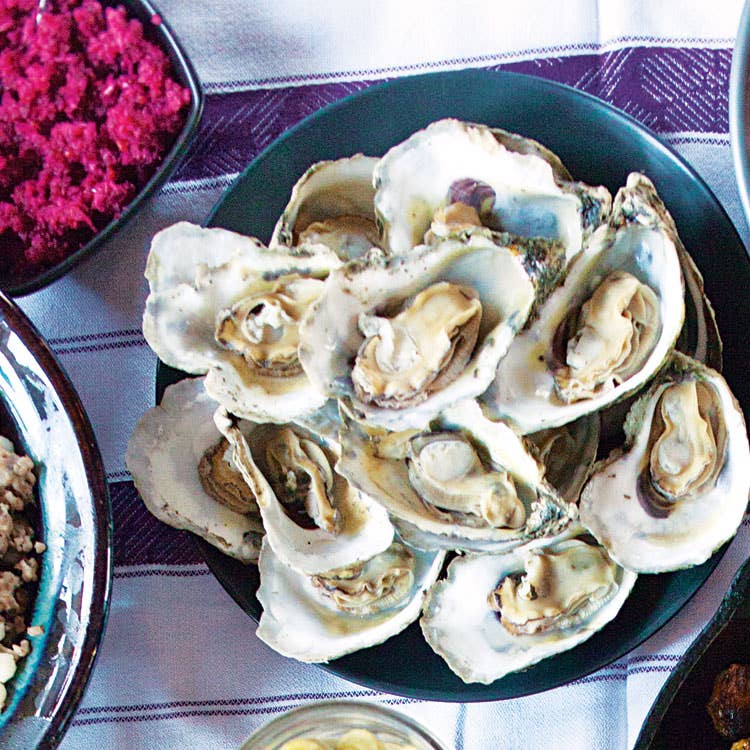 Sweet-tart green tomato pickle and spicy cranberry and horseradish relish are delicious with roasted oysters, an Eastern Shore staple. This recipe first appeared in our November 2012 issue along with Bernard L. Herman's story A Bountiful Shore.
Ingredients
For the Green Tomato Pickle
1 1⁄2 lb. green tomatoes, cored and finely chopped
1 small yellow onion, minced
2 tbsp. kosher salt
3⁄4 cup apple cider vinegar
1⁄2 cup packed light brown sugar
1 tsp. whole black peppercorns
1 tsp. mustard seeds
1⁄2 tsp. whole allspice
1⁄2 tsp. cumin seeds
1⁄2 tsp. celery seeds
4 whole cloves
2 cloves garlic, minced
2 bay leaves
2 dried chiles de arbol
For the Cranberry Horseradish Relish
1 cup fresh or thawed, frozen cranberries
1 small yellow onion
1 lb. fresh horseradish, peeled and finely grated
1 cup honey
1 tsp. kosher salt
1⁄2 tsp. ground cinnamon
1⁄4 tsp. freshly grated nutmeg
2 medium carrots, finely grated
1 small red beet, peeled and finely grated
1 large Granny Smith apple, peeled and finely grated
1 1"-piece ginger, peeled and finely grated
50 oysters in their shells, scrubbed clean
Instructions
Step 1
Make the green tomato pickle: Place tomato and onion in a large fine strainer; sprinkle with 2 tbsp. salt. Toss until evenly combined; let sit for 30 minutes to drain. Transfer to a 4-qt. saucepan, and add remaining ingredients and 1 1⁄2 cups water; boil. Reduce heat to medium; cook, stirring, until tomatoes are tender and mixture is slightly reduced, about 50 minutes. Remove from heat; set aside to cool.
Step 2
Make the cranberry-horseradish relish: Puree cranberries and onion in a food processor until smooth. Transfer to a bowl; add remaining ingredients except oysters. Stir until evenly combined; let sit at least 30 minutes to meld flavors.
Step 3
Roast the oysters and serve: Heat oven to 450°. Place oysters, rounded side down, in a large roasting pan so they fit in no deeper than 2 layers, and pour in 2 cups water; roast until shells open, about 20-25 minutes. Transfer pan to a wire rack, and cover with a large kitchen towel; let oysters sit and steam until cool enough to handle. Using an oyster knife, remove upper shell of oysters. Serve on the half shell with green tomato pickle and cranberry-horseradish relish on the side.