Recipes
Roasted Sweetbreads with Piquillo Pepper Sauce and Saffron Potatoes (Hatelet de Ris de Veau Roti au Pimento del Piquillos)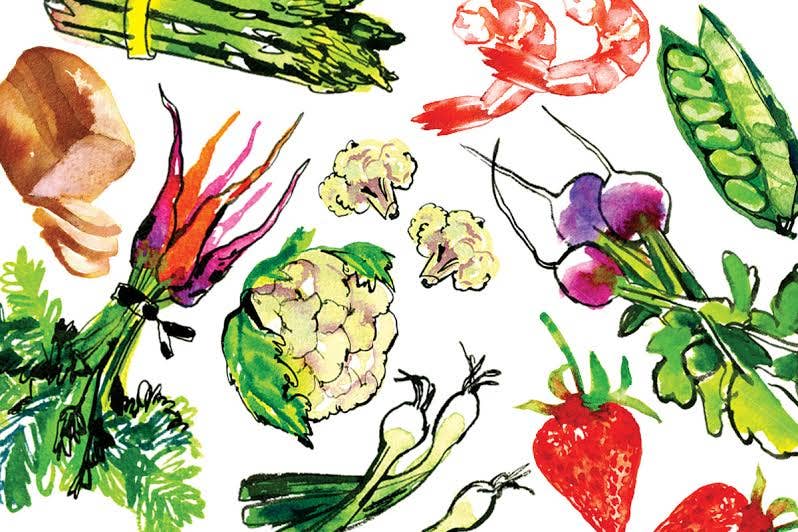 This elaborate dish is not only beautiful to the eye but heaven to the mouth.
Ingredients
For the Sweetbreads and Sauce
1 1⁄2 lb. veal sweetbreads (from the pancreas), cut into 12 equal pieces
1⁄4 cup peanut oil
4 small spring onions (bulbs only), trimmed and halved
5 tbsp. butter
4 sprigs fresh thyme
3 cloves garlic, crushed
1 sprig rosemary
Kosher salt
1 jarred piquillo pepper, chopped
1⁄2 cup heavy cream
2 drops Tabasco sauce
1 pinch sugar
2 Picholine olives, pitted and cut lengthwise into 1/8" slivers
Tips from 2 sprigs thyme
For the Saffron Potatoes Mousseline
1 medium Yukon gold potato (about 1/3 lb.), unpeeled
Kosher salt
3 tbsp. milk
1 tbsp. heavy cream
5 tbsp. butter, cubed and softened
1 very small pinch powdered saffron
Instructions
Step 1
For the sweetbreads: Bring a large pot of water to a boil over high heat, add sweetbreads, and cook for 5 minutes. Transfer sweetbreads to a sheet tray, using a slotted spoon, and remove and discard membranes and sinew. Wrap each piece in plastic wrap, twisting both ends tightly, to form a tight ball. Refrigerate for 4 hours or overnight.
Step 2
For the piquillo pepper sauce: Put peppers, cream, 2 tbsp. butter, Tabasco, sugar, and salt to taste into a small saucepan. Bring to a boil over medium-high heat. Reduce heat to medium-low, simmer for 2 minutes, and blend with an immersion blender until smooth. Strain through a fine sieve into a bowl and refrigerate.
Step 3
For the potato mousseline: Put potato into a medium pot, cover with salted water, and bring to a simmer over medium-high heat. Reduce heat to medium-low; cook until tender, about 40 minutes. While potato is still hot, peel and pass it through a food mill, then press it through a fine sieve into a medium bowl. Heat milk and cream, add to potatoes, and, using an electric beater, whip potatoes, adding butter a few cubes at a time. Stir in saffron; season with salt to taste.
Step 4
Returning to sweetbreads, heat 2 tbsp. of the oil in a large skillet over medium heat. Add onions and cook until golden, 8-10 minutes. Transfer to a plate; keep warm. Heat remaining oil in skillet at medium-high, unwrap sweetbreads, and add to skillet, cooking until light golden on all sides, 4-5 minutes. Add butter, thyme, garlic, rosemary, and salt to taste and cook, spooning butter continually over sweetbreads, until they are golden brown and crisp, 5-6 minutes more.
Step 5
To assemble: Thread 3 sweetbreads each onto four 6" skewers. Divide skewers between 4 large rectangular plates. Reheat pepper sauce, then blend for 30 seconds with immersion blender. Spoon some sauce around skewers and top each sweetbread with some olives, slivered peppers, and thyme. Heat potatoes until very hot, put into a pastry bag, and fill each whole pepper. Set a pepper on top left-hand corner of each plate, pointed side up. Pipe 2 potato ovals onto top right-hand corner of each plate and nestle a piece of onion against each.