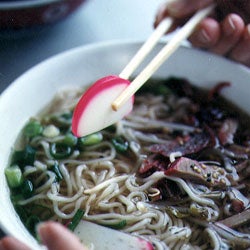 This Hawaiian-style soup—a melding of Japanese and Chinese ingredients—is island comfort food. Any good Asian market should have all the ingredients called for in this recipe.
Saimin
Saimin noodles, made from fine white flour and sold fresh, are the key to this warming soup.
Ingredients
1 lb. fresh saimin noodles
4 cups dashi (Japanese soup stock)
4 oz. kamaboko (fish cake), thinly sliced
8 oz. char sui (Chinese roasted pork), thinly sliced
2 cups chopped fresh spinach
6 green onions, cleaned and chopped
Soy sauce, optional
Instructions
Cook noodles in a large pot of boiling water for 3 minutes. Drain noodles and divide among four soup bowls.
While noodles cook, heat dashi over medium heat until hot but not boiling. Pour dashi over noodles.
Garnish soup with fish cake, pork, spinach, and onions, dividing ingredients evenly among bowls. Serve with soy sauce if desired.