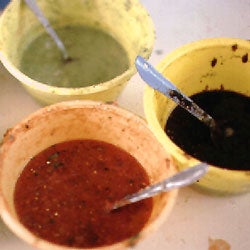 Use this hot smoky salsa to make Chipotle Mayonnaise, or smear—a little—on Veracruz-Style Empanadas.
Salsa Negra
Dark, hot, and smoky, this salsa gets its flavor—and its heat—from chipotle peppers.
Ingredients
3 oz. dried chipotle mora chiles
7 tbsp. vegetable oil
12 cloves garlic, peeled
Salt
Instructions
Rinse chiles. Heat 3 tbsp. of the oil over medium heat in a cast-iron skillet. Add chiles and garlic and cook, stirring, until chiles are puffed and garlic is brown, about 5 minutes. Transfer chiles to a bowl; set garlic aside.
Soak chiles in hot water until soft, about 15 minutes. Drain, and carefully remove stems, veins, and seeds (see Handling Chiles). Purée chiles, garlic, and 2 cups water in a food processor or blender. Heat remaining 4 tbsp. oil in skillet over medium heat. Add chile purée and cook, stirring with a wooden spoon, until mixture begins to stick to pan, about 10 minutes. Season with salt.