Recipes
Seasonal Squash Tart
Make your stash of butternut or zucchini sing with this easy, year-round pastry treat.
Serves

serves 2-4

Cook

2 hours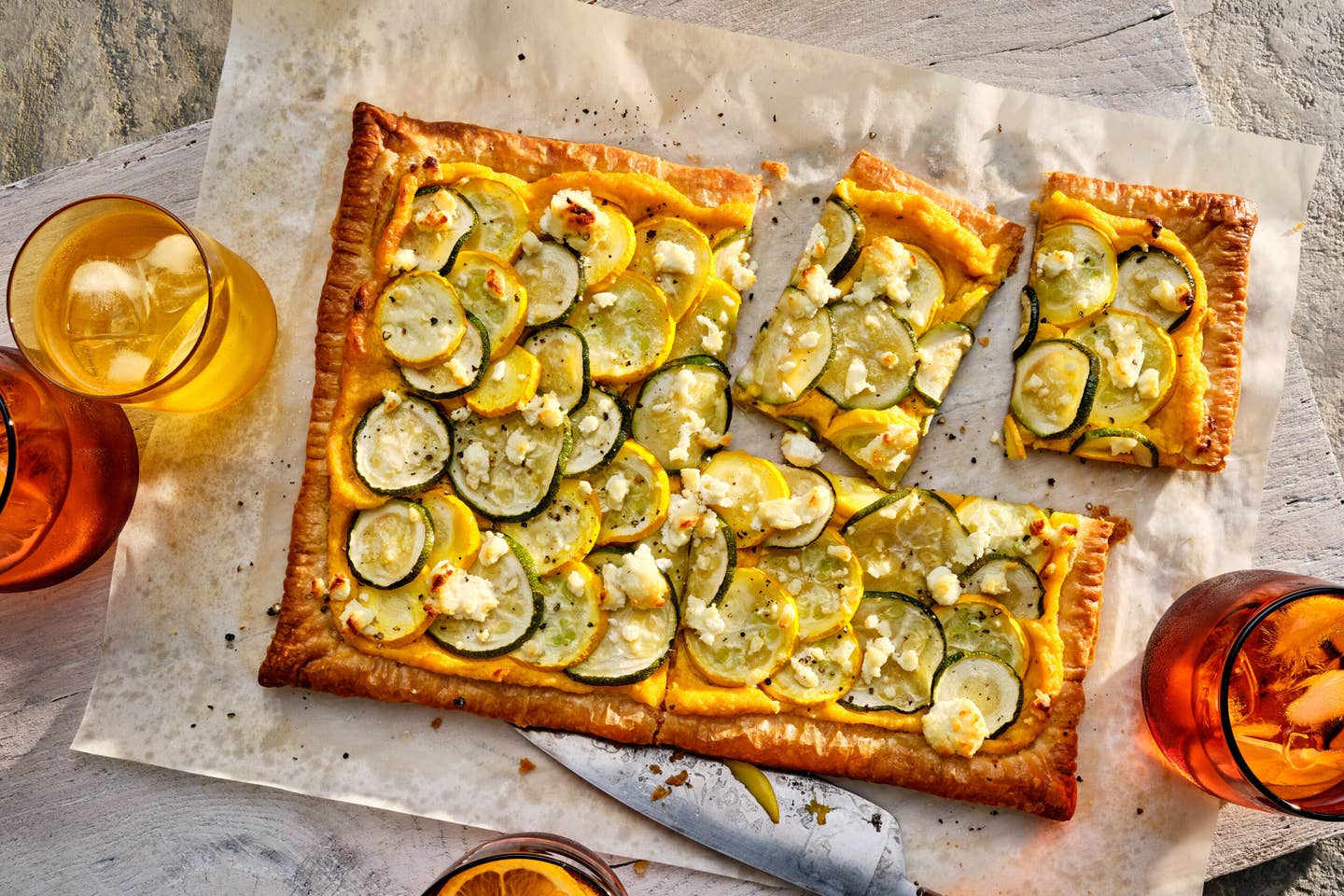 By using seasonal squash, this light and tasty dish—developed by Alex Saggiomo at Blue Apron—can be made year-round. Feel free to get creative with the topping for this tart, which will help stretch leftover squash and other vegetables.
Ingredients
One 10- by 15-in. sheet frozen puff pastry, thawed and rolled out slightly to soften
Half a butternut squash, peeled, seeded, and cut into large cubes
3 garlic cloves
2 tbsp. extra-virgin olive oil, plus more for drizzling
¼ cups heavy cream
½ tsp. finely grated lemon zest
3 tbsp. fresh goat cheese, divided
1 yellow squash, sliced into ¼-in. rounds
1 medium zucchini, sliced into ¼-in. rounds
Kosher salt and freshly ground black pepper
Instructions
Step 1
Preheat the oven to 350°F and place the rack in the center of the oven.
Step 2
Line a large baking sheet with parchment paper then place the puff pastry on it. Using a fork, create a border around the edges, poking holes throughout the middle of the dough to prevent it from rising. Place another sheet of parchment over the top and place dried beans or pie weights over the surface. Place in the oven and bake, allowing the edges to rise slightly, about 20 minutes. Remove from the oven and set aside to cool to room temperature. Turn the oven up to 400°F.
Step 3
Line a second baking sheet with aluminum foil, then arrange the butternut squash and garlic atop it in a single layer. Toss with olive oil and season lightly with salt and black pepper. Roast the squash for 30 minutes, then remove from the oven and set aside to cool to room temperature. Turn the oven down to 375°F.
Step 4
When the squash has cooled, transfer to a food processor along with the heavy cream, lemon zest, and half of the goat cheese; process until smooth.
Step 5
On the reserved pastry sheet, spread the squash purée in an even layer, leaving a thin border along all 4 edges. Arrange the yellow squash and zucchini slices overtop, allowing each one to slightly overlap. Drizzle a small amount of olive oil over the top, then dot with the remaining goat cheese. Transfer to the oven and bake the tart until the squash is slightly browned, about 30 minutes. Cut into slices and serve warm or at room temperature.
When grilling just won't cut it, we've got you covered with these knockout recipes.