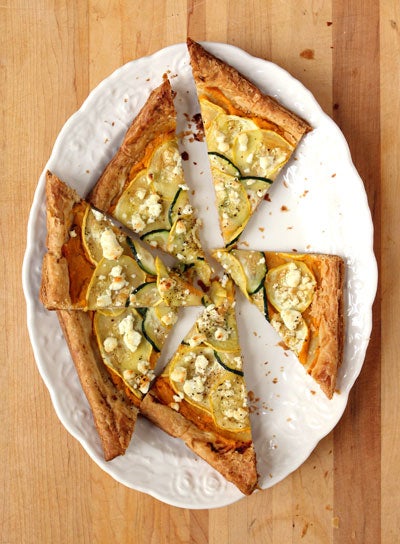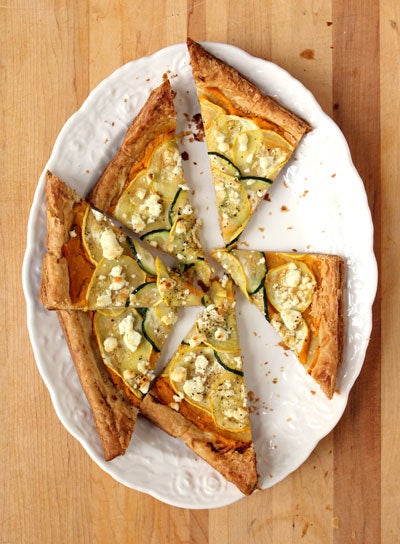 By using seasonal squash, this light and tasty dish can be made year round. This recipe was developed by test kitchen assistant Alex Saggiomo.
Seasonal Squash Tart
By using seasonal squash, this light and tasty dish can be made year round.
Ingredients
1 sheet puff pastry, thawed and rolled out slightly to loosen the dough
1 yellow squash, sliced into 1/4″ rounds
1 zucchini, sliced into 1/4″ rounds
1⁄2 butternut squash, cut into large cubes
3 cloves garlic
2 tbsp. olive oil plus extra
1⁄4 cup heavy cream
1⁄2 tsp. lemon zest
3 tbsp. goat cheese
salt and pepper, to taste
Instructions
Preheat an oven to 350°. Place the rolled out puff pastry sheet on a sheet tray lined with parchment. Using a fork, create a border around the edges, poking holes throughout the middle of the dough to prevent it from rising. Place another sheet of parchment over top and place beans or a pie weight over the surface. Place in the oven and bake; allowing the edges to rise slightly, about 20 minutes. Remove and let cool.
On a separate foil lined tray, arrange the butternut squash and garlic cloves in a single layer. Toss with olive oil and season with salt and pepper. Roast in a 400° oven for 30 minutes. When cool, place into a food processor with the heavy cream, lemon zest, and half of the goat cheese; process until smooth.
On the cooled pastry, spread a coating of the squash mixture in the center. Arrange the squash and zucchini slices overtop, allowing each one to slightly overlap. Drizzle a small amount of olive oil and the remaining goat cheese, crumbled, over top. Place in a 375° oven for 30 minutes and bake until the squash starts to slightly brown, about 30 minutes. Serve warm or at room temperature.