Recipes
Sombi (Senegalese Coconut Rice Pudding)
Rice, coconut milk, and vanilla cook together to make a fragrant, luscious dessert.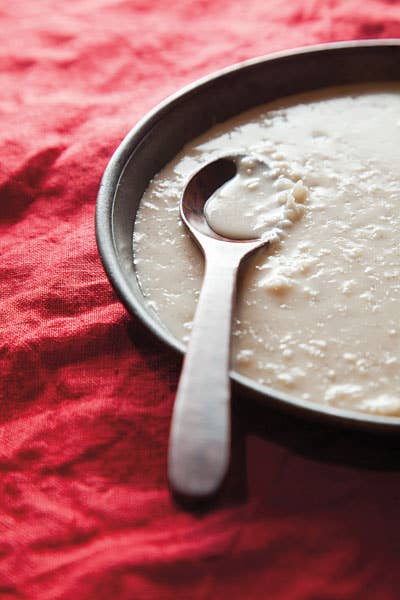 More like a creamy porridge than a pudding in consistency, this sweet dish is commonly eaten for breakfast or as an afternoon snack in Senegal. This recipe first appeared in our May 2012 issue along with John O'Connor's story A Feast For All.
Ingredients
4 cups coconut milk
1 cup unsweetened shredded coconut, fresh or dried
1⁄2 cup packed light or dark brown sugar
1⁄2 tsp. kosher salt
1 vanilla bean, seeds scraped and reserved
2 cups cooked white rice
2 tbsp. fresh lime juice
Instructions
Step 1
Bring coconut milk, coconut, sugar, salt, and vanilla bean with seeds to a boil in a 4–qt. saucepan over medium heat and cook, stirring often, until reduced slightly, about 5 minutes.
Step 2
Add rice, and cook, stirring, until rice breaks down and thickens soup slightly, about 5 minutes. Remove from heat, and stir in juice; serve hot.