Seppi's BBQ Shrimp with Lemongrass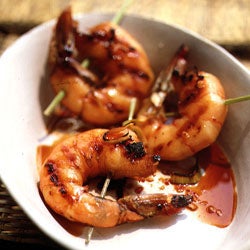 Chef Seppi Rengli created this dish while at New York's Sea Grill restaurant, using lemongrass in the marinade, then skewering the shrimp with the stalks to add extra flavor.
Yield: makes 20
Ingredients
1 cup soy sauce
1⁄4 cup fish sauce (nam pla)
1⁄4 cup sweet sake wine (mirin)
1⁄4 cup minced inner stalk lemongrass
1 tbsp. Indonesian chile paste
1 tbsp. finely chopped ginger
1 tsp. ground coriander seed
1 tsp. chopped garlic
1⁄3 cup palm sugar or brown sugar
20 jumbo shrimp (about 2 lbs.)
20 thin stalk ends lemongrass (about 6 whole stalks)
Instructions
Mix soy sauce, fish sauce, sake, lemongrass, chile paste, ginger, coriander, garlic, and sugar in a 9″ × 12″ glass dish. Peel and devein shrimp, and add to marinade. Turn to coat well, and refrigerate 3–4 hours.
Cut lemongrass stalks into 3″ pieces and skewer shrimp from head to tail, in the form of a "C". Grill on a preheated grill, or grill pan on the stove for 2 minutes on each side, then brush with marinade.