Shanghai Soup Dumplings (Xiao Long Bao)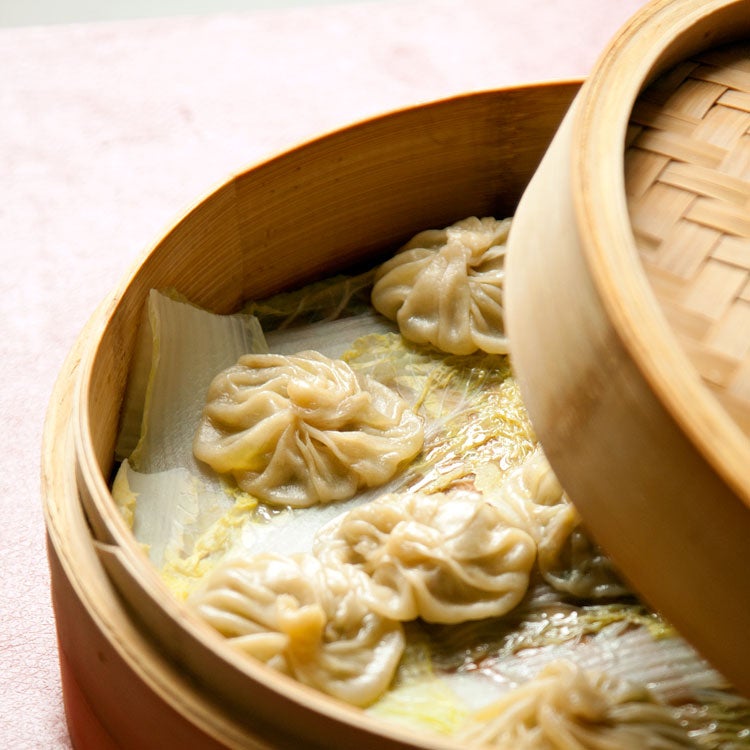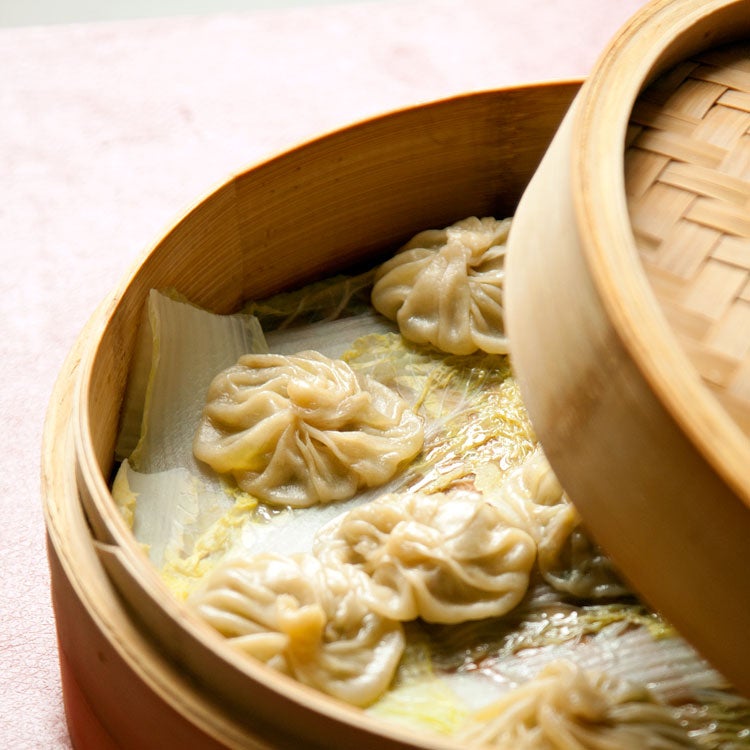 The trick to soup dumplings, seemingly miraculous shots of savory, meaty broth encased in steamed dough, is both simple and clever. They're made using a collagen-rich pork stock that gels as it cools; the jelly can then be sliced and mixed with ground pork and aromatics and used as filling. The soup reliquefies as the dumplings steam, ready to be slurped out upon serving. —Margo True, from "Secret Soup" (April 2004) See our step-by-step guide to forming the dumplings »
Shanghai Soup Dumplings (Xiao Long Bao)
The trick to soup dumplings, seemingly miraculous shots of savory, meaty broth encased in steamed dough, is both simple and clever.
Ingredients
4 oz. pork skin, rinsed and finely diced
2 scallions, trimmed and chopped
1 (3″) piece ginger, peeled, cut into matchsticks
8 large napa cabbage leaves, trimmed and blanched
4 tbsp. Chinese black vinegar
5 oz. pork belly, cubed
1 tsp. sugar
1 tsp. Chinese soybean paste
1 tsp. dark soy sauce
1 tsp. Asian sesame oil
1 tsp. kosher salt
1⁄4 tsp. freshly ground white pepper
1⁄2 cup flour
Instructions
Place pork skin, half the scallions, one-third the ginger, and 1 1⁄2 cups cold water in a 4-qt. pot. Bring to a simmer over medium-low heat and continue to simmer until most of the gelatin from the pork skin has leached out and broth has reduced to 1⁄2 cup, about 1 hour. Strain broth through a sieve into a shallow bowl, discarding solids, and refrigerate until firmly gelled, 1–1 1⁄2 hours. Line bottoms of 2 medium (about 9″ in diameter) bamboo steamer baskets with 3 of the cabbage leaves each and set aside. Divide remaining ginger between 2 small dipping bowls. Add 2 tbsp. of the vinegar to each bowl and set sauce aside.
Place pork belly and remaining scallions in a bowl; mix well. Pass pork mixture through a meat grinder fitted with the fine-hole disk into a medium bowl. Add sugar, bean paste, soy sauce, sesame oil, and salt and pepper, and mix well. Finely dice pork jelly and stir into ground pork mixture. Cover and set filling aside in the freezer to set.
Put flour into a medium bowl, add 5 tbsp. warm water, and stir until a dough begins to form. Press dough together into a rough ball, transfer to a lightly floured surface, and knead until smooth, 8–10 minutes. Shape dough into a ball, cover with plastic wrap, and set aside to let rest for 30 minutes. Roll dough into a 6″-long rope on a lightly floured surface with your hands, cut into 16 equal pieces, roll into balls, and cover with plastic wrap to keep from drying out.
To form the dumplings, lightly dust 1 of the dough balls with flour, then flatten into a disk. Roll out until disk is about 3″ in diameter. Put 1 tbsp. of the filling on the thick center of dough. Pleat dough at 1⁄4" intervals to encase filling. Hold dumpling in one hand, put tip of index finger of your other hand in center of pleated dough, then gently twist pleats shut, removing index finger as you twist, to completely encase filling. Repeat rolling, filling, pleating, and twisting with remaining dough to make 16 filled dumplings in all. Put 8 dumplings into each steamer basket, adding them as they are formed; cover dumplings with remaining cabbage leaves to keep them from drying out as you work.
Remove and discard cabbage leaves from tops of dumplings (not the leaves lining the baskets), stack baskets, and put lid on top basket. Steam dumplings over a wok of boiling water over high heat until pork is cooked through and jelly has melted into soup, 8–10 minutes. Serve dumplings immediately, with dipping sauce on the side.
See our step-by-step guide to forming the dumplings »
See all 150 classic recipes featured in our 150th issue »