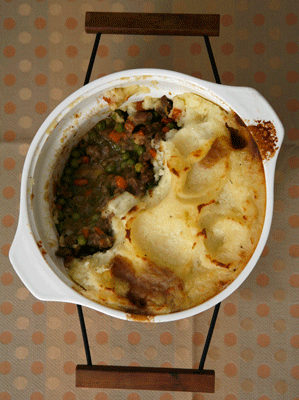 Shepherd's pie gets its name from the romantic notion that it was eaten by shepherds in the north of England long ago. We decided to make ours with lamb, keeping the spirit of the idea. When made with beef, this classic casserole is usually called cottage pie in England.
Shepherd's Pie
Shepherd's pie is a hearty one-pot meal sure to satisfy even the hungriest bunch.
Ingredients
14 tbsp. butter
2 lb. lamb shoulder, trimmed and cut into 1⁄2″ cubes
2 leeks, white parts only, finely chopped
2 medium carrots, chopped
2 tbsp. flour
1 1⁄2 cups Beef Stock
1 tbsp. worcestershire sauce
1 tbsp. finely chopped rosemary leaves
1 tbsp. finely chopped thyme leaves
1⁄8 tsp. freshly grated nutmeg
Salt and freshly ground black pepper
1 1⁄2 cups frozen peas, thawed
3 large russet potatoes (about 2 lbs.), peeled and quartered
1⁄2 cups half-and-half
Instructions
Melt 2 tbsp. of the butter in a large pot over high heat. Add one-third of the lamb and brown on all sides, 4–5 minutes. Using a slotted spoon, transfer lamb to a plate, leaving fat in pot. Repeat process 2 more times, using 2 tbsp. of the butter and one-third of the lamb for each batch. Add leeks and carrots to pot, reduce heat to medium, and cook until softened, scraping up any browned bits, 3–4 minutes. Return lamb and its juices to pot along with flour and cook, stirring frequently, for 1 minute. Whisk in stock, worcestershire, rosemary, thyme, nutmeg, and salt and pepper to taste. Increase heat to medium-high; bring to a boil. Reduce heat to medium-low and simmer, covered, until lamb is tender, about 40 minutes. Uncover pot and simmer, stirring often, until thickened, 35–40 minutes more. Remove from heat, stir in peas, and set aside.
Meanwhile, put potatoes into a large pot and cover with salted water; bring to a boil. Reduce heat to medium-low and simmer until tender, 20–25 minutes. Drain and transfer potatoes to a bowl. Add 6 tbsp. of the butter, half-and-half, and salt and pepper to taste; mash smooth with a potato masher.
Preheat oven to 375°. Transfer lamb mixture to a 2-quart casserole dish. Top evenly with mashed potatoes, making swirls and whorls with the back of a spoon. Cut remaining 2 tbsp. butter into small cubes; scatter over potatoes. Bake until golden brown and bubbling, about 30 minutes.