Recipes
Skate Cooked in Clarified Butter with a Brunoise of Fruit and Vegetables in Vinegar Sauce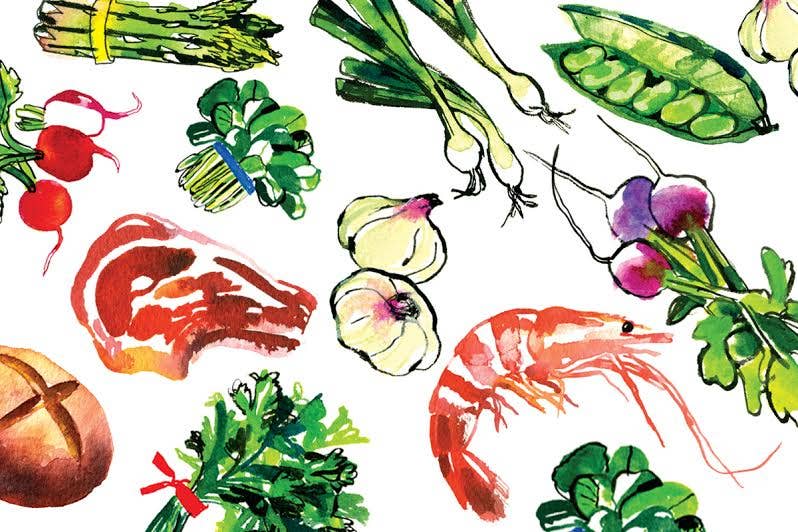 In the hands of the Apicius kitchen staff, careful peeling and precision dicing transform fruits and vegetables into the mixture of tiny flavor-filled jewels known as a brunoise.
Ingredients
1 Tbsp. extra-virgin olive oil
1⁄4 tsp. fresh lemon juice
Salt and freshly ground black pepper
2 cups baby spinach leaves, trimmed and washed
6 Tbsp. butter
3 1⁄2 Tbsp. aged sherry vinegar
1 Tbsp. ketchup
1⁄4 cup finely diced peeled granny smith apple
2 Tbsp. finely diced peeled red bell pepper
2 Tbsp. finely diced peeled celery, blanched
1 Tbsp. finely diced peeled pithed lemon flesh
1 Tbsp. capers
2 Tbsp. minced fresh parsley
4 (6-oz.) skate filets
3 Tbsp. clarified butter
Instructions
Step 1
Pour oil and lemon juice into a mixing bowl and whisk together. Season to taste with salt and pepper. Toss spinach in vinaigrette and set aside.
Step 2
Melt 6 tbsp. butter in a small skillet over medium heat, then cook until it turns deep brown, about 4 minutes. Meanwhile, heat sherry vinegar in a medium skillet over medium heat until skillet is almost dry, about 2 minutes. Stir in browned butter and ketchup. Add apples, peppers, celery, lemon, capers, and parsley, and cook, stirring continually, until just heated through, about 10 seconds. Season to taste with salt and pepper and set aside.
Step 3
Season skate on both sides with salt and pepper to taste. Heat clarified butter in a large skillet over medium-high heat, add fish, and cook until crisp and golden, about 2 minutes per side.
Step 4
To serve, arrange one-quarter of the spinach in a little pile on a plate. Put 1 skate filet on top of spinach, then spoon some of the fruit and vegetables with their sauce over skate. Repeat with remaining ingredients on three more plates.