Recipes
Jirou Chao Qincai (Stir-Fried Chicken with Celery)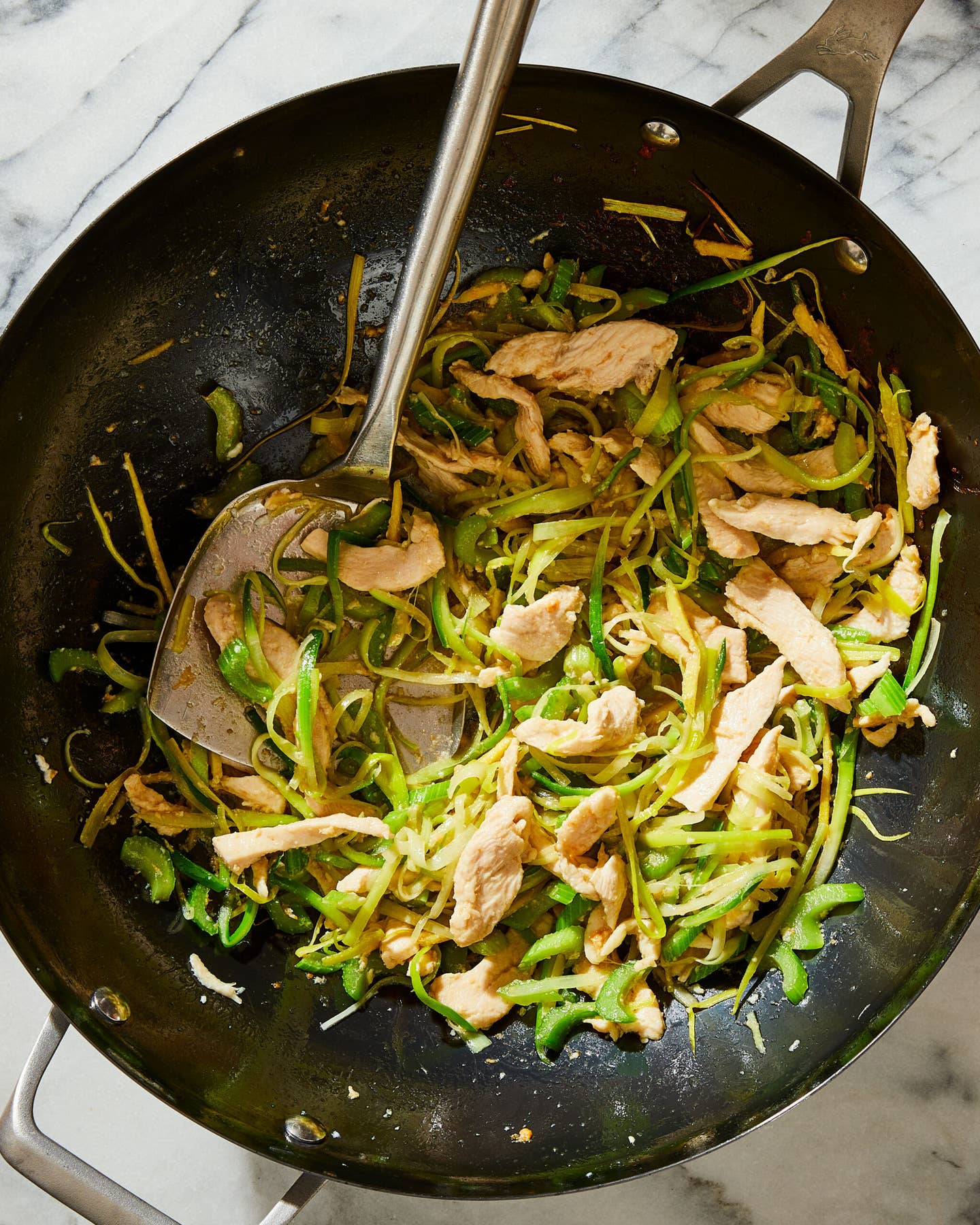 Marinating meat before cooking is an essential step in most stir-fries. In this dish, a mix of egg white and cornstarch coats the chicken and a quick blanching in a little oil in the wok preserves its succulence—a technique called velveting. Like the recipe for red-cooked pork belly (see Red-Cooked Pork Belly), this one comes from Deng Haiyan, one of the most adept cooks I've met here in Beijing. Once she's blanched the chicken, she sets it aside. Then, julienned ginger and leeks go into the wok and release their perfume into the hot oil; celery, added next, cooks until crisp-tender and faintly sweet. The payoff comes when the chicken is reintroduced to the wok: the cornstarch-egg white coating soaks up the flavors of the aromatics, and the bright, crunchy celery contrasts beautifully with the silky texture and delicate flavor of the chicken.
Ingredients
2 tsp. cornstarch
2 boneless, skinless chicken breasts, frozen for 20 minutes, halved lengthwise, and cut crosswise into ⅛"-thick strips
1 egg white
Kosher salt, to taste
3 tbsp. canola oil
1 (1 1/2") piece ginger, peeled and julienned
1 leek, halved crosswise and julienned
5 ribs celery, cut diagonally into ¼"-thick slices
1 1⁄2 tbsp. light soy sauce
Instructions
Step 1
Combine cornstarch, chicken, egg white, and a pinch of salt in a medium bowl and toss vigorously to combine; set aside for 10 minutes.
Step 2
Heat a 14" wok (or stainless-steel skillet) over high heat until wok starts smoking. Add 2 tbsp. oil around edge of wok and swirl to coat the bottom and sides. Add chicken and cook, tossing constantly, until chicken is opaque, about 1–2 minutes. Transfer chicken to a plate and set aside.
Step 3
Return wok to high heat and add remaining oil around edge of wok. Add ginger and leeks and cook, tossing constantly, until fragrant, about 30 seconds. Add celery and cook, stirring and tossing often, until crisp-tender, 1 minute.
Step 4
Add reserved chicken and juices from plate back to wok, along with soy sauce. Cook, tossing, until chicken is cooked, 1–2 minutes.