Recipes
Traditional Mincemeat Pie
Serves

makes one 9-inch pie

Cook

4 hours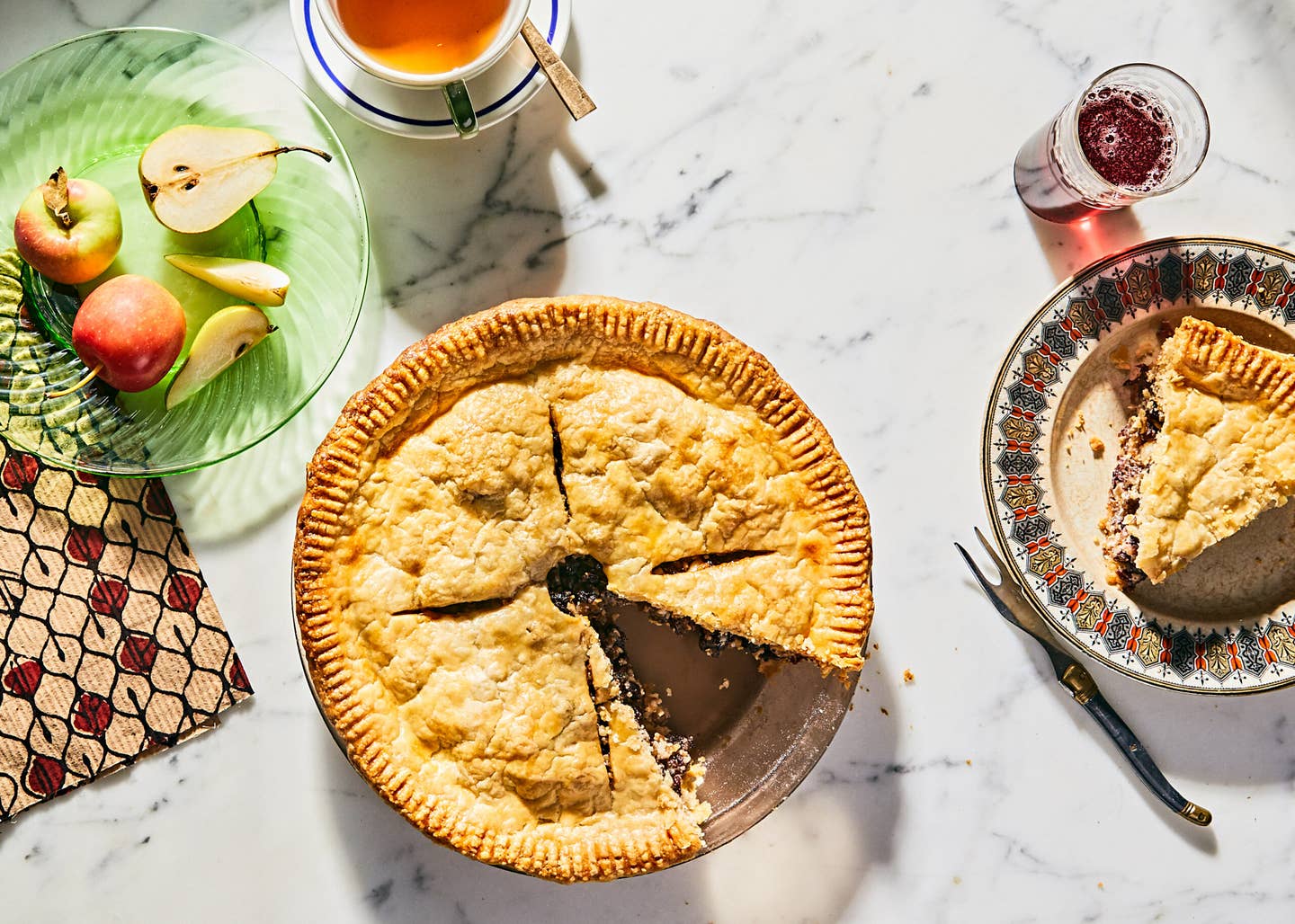 This recipe for old-fashioned mincemeat pie, a version of one featured in the classic 1861 volume Mrs. Beeton's Book of Household Management, was updated in Jane Grigson's English Food (Macmillan, 1974). The mincemeat filling should be prepared at least two days and preferably two weeks prior to the making of the pies so that the fruit can soften and the flavors can meld.
Ingredients
For the Filling
2 cups finely chopped beef suet
¾ cup dried currants
¾ cup finely chopped rump steak (about 3 oz.)
½ cup raisins
½ cup packed dark brown sugar
2 Tbsp. brandy
1½ tsp. chopped candied citron peel
1½ tsp. chopped candied lemon peel
1½ tsp. chopped candied orange peel
1 tsp. fresh lemon juice, plus grated zest of ½ lemon
¼ tsp. grated nutmeg
1½ Granny Smith apples, cored and finely chopped
For the Crust
2¼ cups all-purpose flour, plus more for dusting
1 Tbsp. granulated sugar
1 tsp. kosher salt
12 Tbsp. cold unsalted butter, cubed
6 Tbsp. ice-cold water
1 large egg, lightly beaten
Instructions
Step 1
Make the filling: In a medium bowl, combine the beef suet, currants, rump steak, raisins, brown sugar, brandy, candied citrus peels, lemon juice and zest, nutmeg, and apples. Mix well.
Step 2
Transfer the mixture to a 1-quart jar. Cover and refrigerate for at least 2 days and up to 2 weeks.
Step 3
Make the crust: In a bowl, whisk together the flour, sugar, and salt. Using a dough blender, two forks, or your fingers, cut the butter into the flour mixture, forming pea-size crumbles. Add the water; work the dough until smooth but with visible flecks of butter. (Alternatively, pulse the ingredients in a food processor.) Divide the dough in half and flatten into disks. Wrap the disks in plastic; refrigerate for at least 1 hour before using.
Step 4
When ready to bake, remove one of the disks of dough to a lightly floured work surface, and let it rest at room temperature for about 5 minutes, or until still chilled but pliable. Using a lightly floured rolling pin, roll out the disk into a ⅛-inch-thick round, rotating often and flouring the surface more as needed to prevent sticking. Carefully transfer the dough to a 9-inch pie plate, pressing gently against the sides and bottom to fit. Roll out the remaining disk of dough into a ⅛-inch-thick round using the same method. Transfer the filling to the pie shell, brush the edges with water, and cover the pie with the top crust. Trim excess, leaving a 1-inch overhang. Fold the top edge over the bottom crust to seal, and crimp as desired. Cut a few steam vents in the top crust, then refrigerate the pie for 1 hour.
Step 5
Meanwhile, preheat the oven to 350°F. Brush the pie with egg wash, then bake until golden, about 1 hour. Transfer to a wire rack and let cool completely.