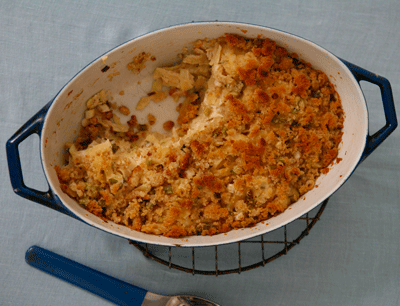 This stalwart of American cooking is often topped with a crunchy layer of crushed potato chips instead of bread crumbs and traditionally made with a can or two of cream of mushroom soup. Our "from scratch" version is respectfully updated.
Yield: serves 6
Ingredients
10 tbsp. butter
Salt
4 1⁄2 cups (about 10 oz.) flat egg noodles
5 scallions, chopped
3 tbsp. flour
1 1⁄2 tsp. dry mustard
3 1⁄3 cups milk
Freshly ground black pepper
1 (12-oz.) can tuna packed in oil, drained and broken into small chunks
1 1⁄2 cups homemade fresh white bread crumbs
Instructions
Preheat oven to 375°. Rub the inside of a 2 1⁄2-quart casserole dish with 1 tbsp. of the butter. Bring a large pot of salted water to a boil over high heat. Add noodles and cook until al dente, 5–7 minutes. Drain and transfer noodles to a large bowl.
Melt 4 tbsp. of the butter in a medium saucepan over medium-high heat. Add half the scallions and cook until softened, 1–2 minutes. Add flour and mustard and cook, stirring frequently, for 1 minute. Gradually pour in milk, whisking constantly, and bring to a boil. Cook sauce, stirring frequently, until smooth and thickened, 16–18 minutes. Season with salt and pepper to taste. Transfer sauce to the bowl with the noodles. Add tuna and stir gently to combine. Transfer tuna–noodle mixture to prepared dish.
Melt remaining 5 tbsp. butter and toss with remaining scallions, bread crumbs, and salt and pepper to taste in a bowl. Scatter seasoned bread crumbs over tuna–noodle mixture and bake until golden brown and bubbling, 20–25 minutes. Let casserole cool slightly before serving.