Vanilla-Scented Quince and Pear Pie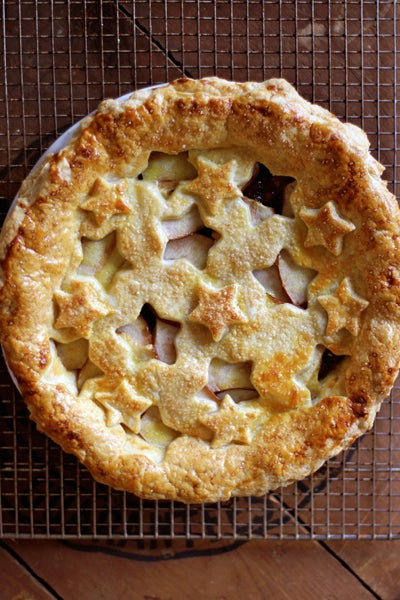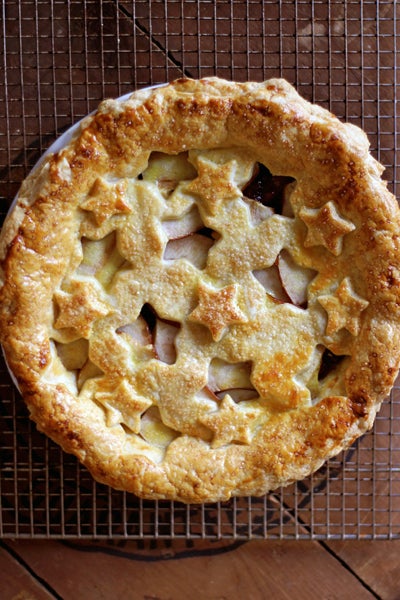 This sweet, tart fruit pie is a beautiful showcase for the flavors of fall and winter. It's great on a holiday table, and is at its best when served alongside a plate of cheese: the rich quince flavor balances beautifully with a wedge of funky, crumbly blue beside it on the plate. This recipe was the winner in our November 2012 Home Cook Challenge contest; of the pie, winner Jennifer Latham says "I impulse-buy fruit, and then end up with all this beautiful treasure that I have to find something to do with. This recipe does take a whole afternoon, what with cooking the quince, but the house ends up smelling like autumnal Eden and the deep rosy jewel-box of a pie is, I think, well worth it." This crust is an adaptation of the one from the Tartine Bakery cookbook
, but any crust may be substituted.
Vanilla-Scented Quince and Pear Pie
This sweet, tart fruit pie is a beautiful showcase for the flavors of fall and winter and looks great on any holiday table.
For the Crust
1 tsp. salt
3 cups plus 2 tbsp. flour (either all-purpose or half pastry and half all-purpose flour)
1 cup plus 5 tbsp. butter
1 egg yolk
1 tbsp. heavy cream
Raw sugar, for sprinkling
For the Quince and Pear Filling
1 lemon, zested in large strips and juiced
1 pod star anise
1 stick canela or 1/2 stick cinnamon
1 vanilla bean, seeds and husks separated
2 1⁄2 lb. quince, peeled, cored and cut into 1/2″ cubes
1 cup rosé wine
2 lb. firm, tart pears (like Russet or Bosc), cored and sliced into ⅛" pieces
1 1⁄3 cups unbleached cane sugar
Instructions
Make the crust: Stir salt into ⅔ cup water until dissolved. Place in the freezer for 10 minutes or until very cold, but not icing over. Cut the butter into very small pieces and place in the freezer, also for 10 minutes. Mix the flours in a bowl with a whisk if using both all-purpose and pastry flour. Spread the flour on a work surface to about ½-inch deep. Scatter the chilled butter cubes over the flour and toss lightly to coat them in the flour. Using a rolling pin, roll the butter into flat, thin pieces, still coated in flour. Using a bench scraper, scrape the flour and butter back together and roll out 2 or 3 more times.
Mound the flour and butter together and make a well in the center big enough to hold all the water comfortably. Pour in the chilled saltwater solution and use a bench scraper to cut the flour and water together, scooping and chopping, until you have a shaggy mass. Flour and butter should still be separately visible; do not work the dough enough to develop any gluten our the crust will be tough.
Roll out and scrape together the dough once or twice more, until it starts to cohere, but is still a bit crumbly. Split dough into two equal pieces of roughly 13 oz. each. Pile each portion in a rough ball onto a piece of plastic wrap. Wrap the dough into a ball and, in the plastic, work it again into a flat disk, roughly 1 inch thick. Chill dough for at least an hour, and up to overnight.
Make the filling: Tie the lemon peel, anise, canela or cinnamon, and vanilla husk into a piece of cheesecloth to make a spice satchel. In a large heavy-bottomed pot over medium-low heat, combine the quince cubes, sugar, vanilla seeds, lemon juice, and wine; stir until sugar is mostly dissolved. Submerge the spice satchel in the quince mixture and raise heat to medium high. Bring mixture to a hard simmer, then reduce heat to a bare simmer, medium or medium-low. Simmer for 10 minutes, then cover and cook for 2-3 hours, stirring occasionally until quince takes on rosy tones and most of the moisture is absorbed (the mixture should have a loose, jammy consistency). Remove from heat and allow to cool.
Pre-heat oven to 400°. Remove one piece of pie dough from the refrigerator and roll out to about ¼". Drape the crust over the bottom and sides of a deep 9″ pie pan, lifting and dropping gently so it forms snugly to the pan without being stretched. Roll out the second piece of dough and cut shapes out with cookie cutters, keeping the cut pieces if you like. Chill the top crust on a sheet pan for a few minutes, so that the cutouts don't loose definition.
Spoon a thin layer of cooled, cooked quince in the bottom of the pie, and cover with an even layer of sliced pear. Alternate layers of quince and pear until the pie pan is close to full—you may have some quince and pear leftover; reserve those for another use.
Make the egg wash: Mix together the egg yolk and cream. Drape the top crust over the pie, and trim to 1 inch all around. Crimp or fold the two sheets of crust together around the edges. If you wish, use a small amount of egg wash to attach the cutout pieces of crust to the top of the pie decoratively. Generously brush the whole crust with the egg wash and sprinkle with raw sugar as desired.
Bake the pie for 15 minutes, or until crust just begins to brown. Reduce heat to 350° and bake until evenly browned and filling is bubbling, about 40-45 minutes. Cool to just warmer than room temperature before serving.