Veal Cutlets with Avocado and Truffle Cream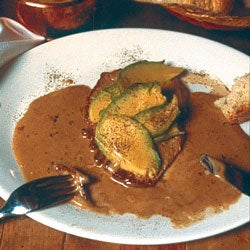 (Scaloppine di Vitello all'Avocado) "In 1979," Trattoria Garga's owner says, "my husband discovered avocados." First she put them in the house salad; then he created this veal dish.
Veal Cutlets with Avocado and Truffle Cream
This dish was created at Trattoria Garga in 1979 and became a favorite of the locals.
Ingredients
4 tbsp. butter
4 (4 1/2-oz.) pieces boneless veal loin, pounded to 1/4″ thickness
Salt
2 tbsp. cognac
1 cup heavy cream
1 tsp. white truffle oil
1 ripe hass avocado, halved lengthwise, pitted, peeled, and sliced
Freshly ground black pepper
Instructions
Heat olive oil and 1 tbsp. of the butter together in a large skillet over high heat. Season veal with salt to taste, add to skillet, and sear until well browned on each side and just cooked through, 30–60 seconds per side. Transfer to a plate and set aside.
Carefully add cognac to same skillet, ignite with a kitchen match, and cook until flames subside, about 30 seconds. Add cream, truffle oil, and the remaining 3 tbsp. butter and cook, stirring and scraping browned bits stuck to bottom of skillet with a wooden spoon, until sauce has reduced by one-quarter, 2–3 minutes. Return veal and any accumulated juices to skillet and cook, spooning sauce over meat, until veal is just heated through, about 30 seconds. Adjust seasoning.
Divide veal between 4 plates, spoon sauce over meat and arrange avocado slices on top. Season to taste with pepper at the table.