Buckwheat and Ricotta Gnocchi with Cream, Peas, and Spinach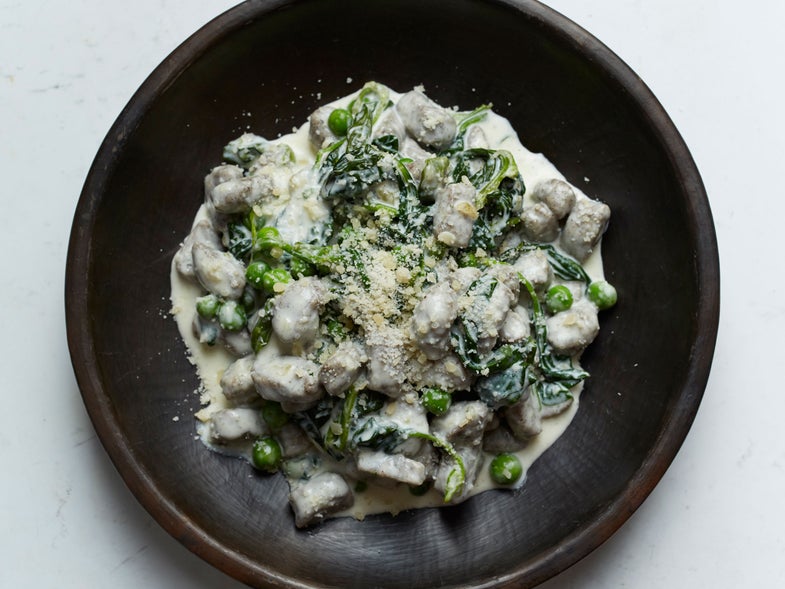 Just miles from the Austrian border, at Ristorante Cianzia in Borca di Cadore, chef Bruna Montesel explained to Jenn Louis why she uses buckwheat flour in her gnocchi: Incorporating it gives the pasta weightiness and an earthy flavor that pairs perfectly with a spring mix of peas and spinach. As the seasons change, try zucchini and squash in the summer and roasted butternut squash in the fall. Featured in: All the Gnocchi
Find this recipe in our cookbook, SAVEUR: Italian Comfort Food
Buckwheat and Ricotta Gnocchi with Cream, Peas, and Spinach
Buckwheat flour makes for dense, slightly sweet gnocchi.
Ingredients
1 3⁄4 cups plus 2 tbsp. homemade ricotta or store-bought whole-milk ricotta
1⁄2 cup finely grated Pecorino Romano
2 tsp. kosher salt, plus more to taste
1⁄2 tsp. freshly grated nutmeg
1⁄4 tsp. freshly ground black pepper, plus more to taste
4 egg yolks
1 cup plus 3 tbsp. all-purpose flour, plus more for dusting
3⁄4 cup plus 2 tbsp. buckwheat flour
Semolina flour, for dusting
1 cup fresh or frozen peas
1 1⁄3 cups heavy cream
4 oz. baby spinach
3⁄4 cup finely grated parmesan
1 tbsp. fresh lemon juice
Instructions
Stir ricotta, pecorino, 2 tsp. salt, 1⁄4 tsp. nutmeg, 1⁄4 tsp. pepper, and yolks in a bowl until smooth. Add flours and, using your hands, mix until a slightly firm dough forms. Quarter dough and cover loosely with plastic wrap. On a lightly floured surface, and working with one-quarter dough at a time, use your hands to roll dough into a 1⁄2-thick rope. Cut rope crosswise into 1⁄4" gnocchi. Transfer gnocchi to a semolina-dusted, parchment paper-lined baking sheet. Separate gnocchi to prevent sticking.
Bring a large pot of generously salted water to a simmer over medium-high. Cook gnocchi, all at once, until they float, 2–3 minutes. About halfway through cooking gnocchi, add peas. Meanwhile, bring cream to a simmer in a 12″ skillet over medium-high. Stir in remaining nutmeg. Using a slotted spoon, transfer gnocchi and peas to skillet with cream. Stir in spinach, 1⁄2 cup parmesan, the lemon juice, salt, and pepper. If sauce is too thick, add 1⁄3 cup water from cooking gnocchi. Divide gnocchi between plates; garnish with remaining parmesan.