Charmoula-Stuffed Sardines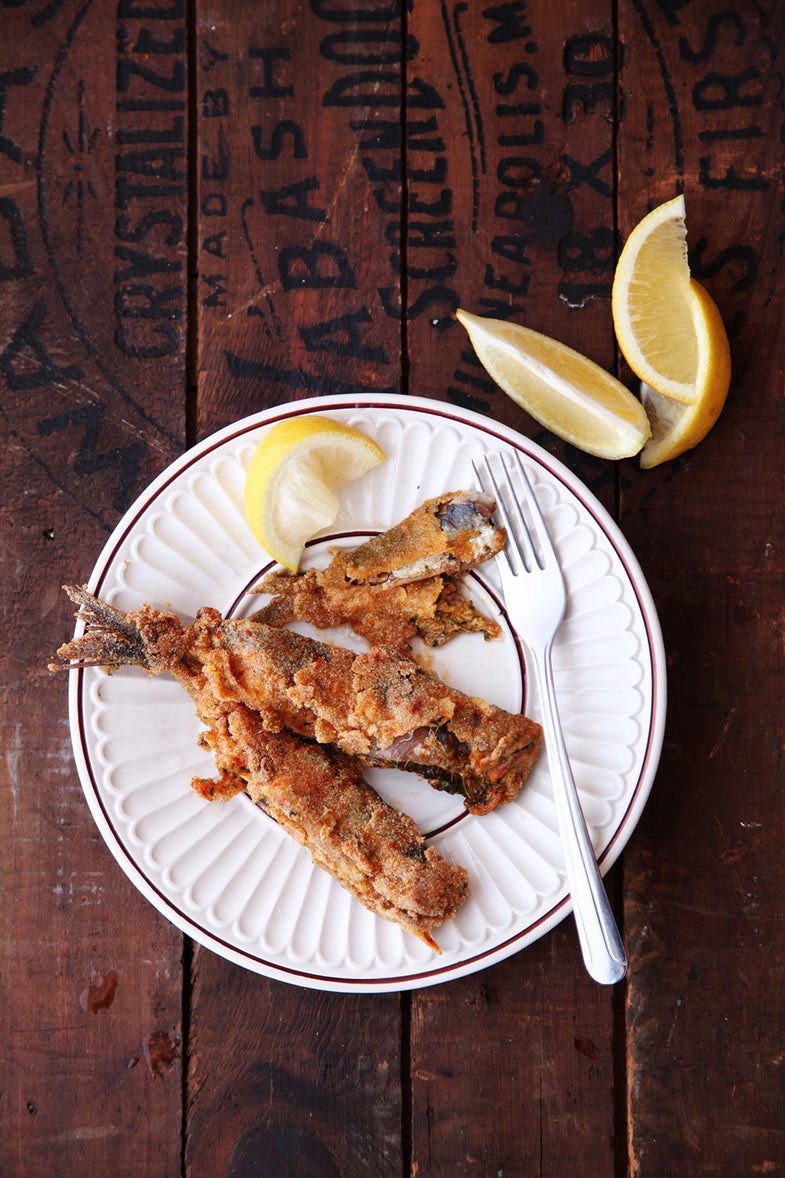 Fresh or canned sardines can be used in this spicy, crispy Moroccan snack. Featured in: Forgotten Fish
Charmoula-Stuffed Sardines
Fresh or canned sardines are stuffed with charmoula in this Moroccan snack.
For the Charmoula
1⁄2 cup roughly chopped cilantro leaves and tender stems
1⁄3 cup roughly chopped parsley
1⁄4 cup olive oil
3 tbsp. fresh lemon juice
2 tsp. smoked paprika
1 tsp. ground cumin
4 cloves garlic, peeled
1 small red Thai chile, stemmed
Kosher salt and freshly ground black pepper, to taste
For the Sardines
12 fresh sardines, cleaned, heads removed
Toothpicks, for sardines
1⁄2 cup olive oil
1 cup fine semolina
2 tsp. ground cumin
1 tsp. smoked paprika
3 eggs, beaten
Kosher salt, to taste
Lemon wedges, for serving
Instructions
Make the charmoula: Combine ingredients in a food processor; purée until smooth and set aside.
Stuff the sardines: Using fingers, splay sardine open. Pinch spine and pull towards tail; snap off just above tail and discard. Spread about 1⁄2 tbsp. charmoula along the inside of half the sardines; top with remaining sardines and secure with toothpicks. Transfer sardines to a plate; chill 20 minutes.
Fry the sardines: Heat oil in a 12" skillet over medium-high heat. Whisk semolina, cumin, and paprika in a shallow bowl; place eggs in a separate bowl. Working in batches and holding sardine tails, dip in egg, then semolina; fry, flipping once, until golden and crisp. Using a slotted spoon, transfer sardines to paper towels to drain; season with salt and serve with lemon wedges.