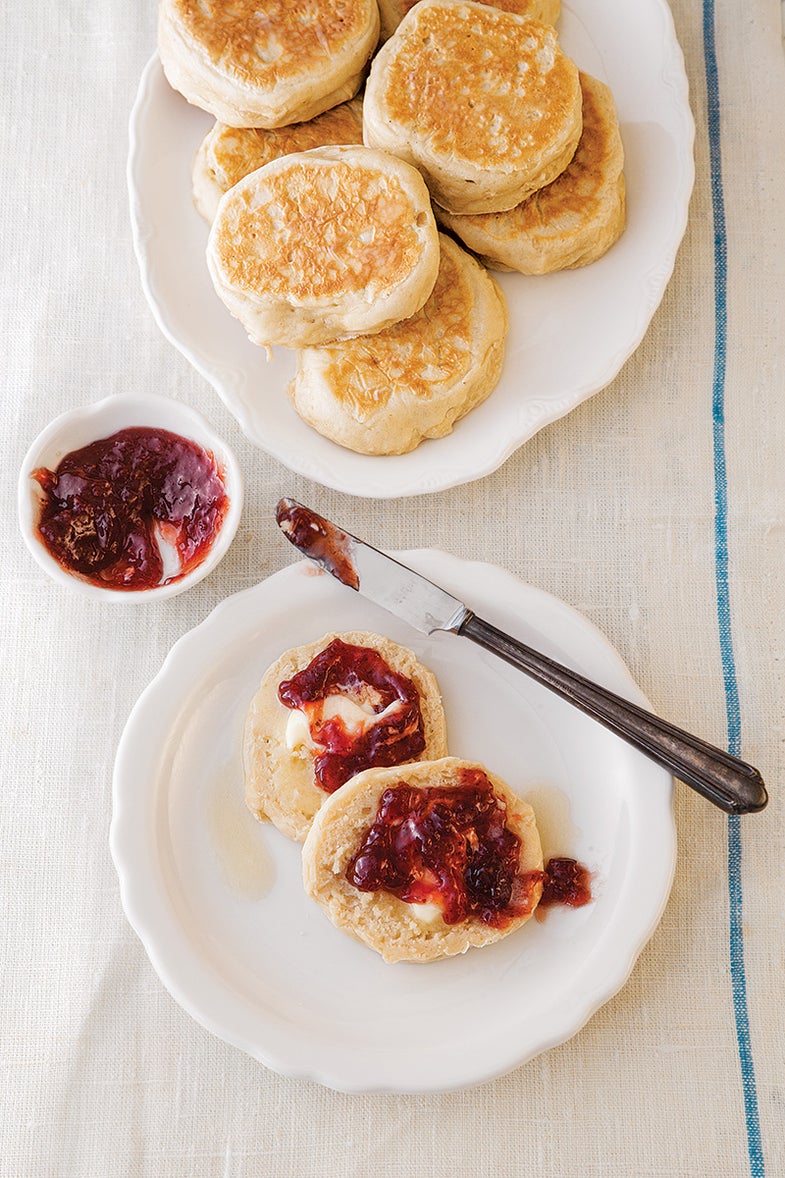 A delectable British treat popular alongside tea or as a snack, these springy pancakes are molded in a shallow ring on the griddle and pan-fried until golden. They get their distinctive nooks and crannies—ideal for a slick of jam and butter—from a yeast-based batter boosted with baking soda. This recipe also appears in the SAVEUR New Classics Cookbook. See our step-by-step guide to making crumpets »
Crumpets
A delectable British treat popular alongside tea or as a snack, these springy pancakes are molded in a shallow ring on the griddle and pan-fried until golden.
Ingredients
3 1⁄4 cups flour
1 tsp. kosher salt
1⁄2 tsp. baking soda
2 cups whole milk (1 cup heated to 115°, 1 cup room temperature)
2 tbsp. sugar
1 (1¼ oz.) package active dry yeast
Unsalted butter, for greasing and serving
Jam, for serving (optional)
Instructions
Whisk flour, salt, and baking soda in a bowl; set aside. Combine heated milk, the sugar, and yeast in the bowl of a stand mixer fitted with a paddle attachment; let sit until foamy, about 10 minutes. With the motor running, slowly add dry ingredients, and then remaining milk until a sticky dough forms; cover loosely with plastic wrap and set in a warm place until doubled in size, about 1 hour.
Heat a 12″ cast-iron skillet over medium; place a greased 4″ ring mold in pan. Fill ring with ⅓ cup batter. Cook until bubbles appear on the surface, about 6 minutes. Carefully remove ring and flip crumpet; cook until golden and cooked through, about 5 minutes more. Repeat with remaining batter, greasing ring mold each time. Serve warm with butter and jam, if you like.
See our step-by-step guide to making crumpets »
As Seen In:
SAVEUR is devoted to following food to its source. For more than 20 years, we've been sharing and celebrating authentic cuisine from across the globe. Now, in The New Classics Cookbook, our editors have collected 1,000+ of our all-time favorite go-to recipes in one essential volume. It will bring a world of inspiration to your home kitchen for years to come.