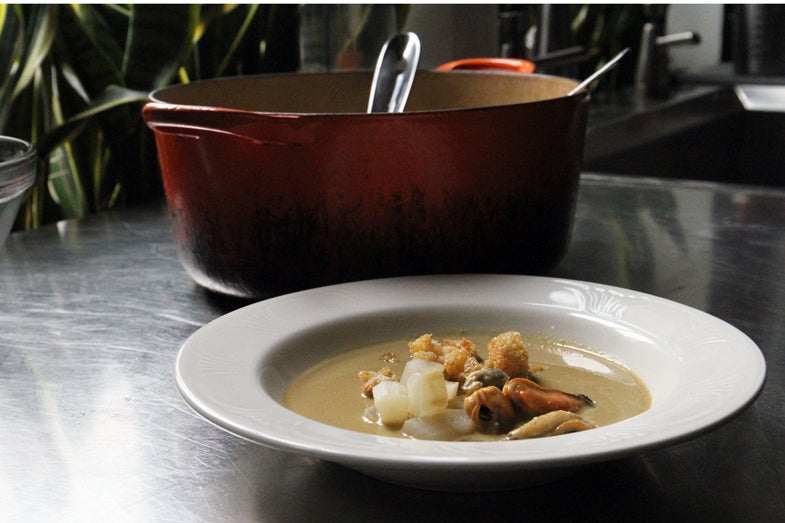 This mussel soup from Andrea Reusing, cookbook author and chef at Chapel Hill's Lantern restaurant, is briny, rich, and creamy—without the addition of any cream. It's her take on Billi Bi, a famed French mussel soup that, one origin story has it, was created at Maxim's in Paris and named after soup fan William B. Leeds, an American metal tycoon. Featured in: Andrea Reusing's Mussel Soup
Mussel and Salsify Soup
Creamy, briny mussel soup from chef Andrea Reusing of Lantern in Chapel Hill.
Ingredients
4 lb. mussels, scrubbed, beards removed
2 cups dry white wine
1 cup dry vermouth
4 tbsp. unsalted butter
3 shallots, peeled and sliced
4 cloves garlic, smashed and peeled
A few sprigs of parsley, tied into a bundle with string
4 medium salsify, peeled and cut into 3/4″ pieces
Kosher salt and freshly ground black pepper, to taste
Buttered croutons, for serving
Instructions
Combine mussels, white wine, and vermouth in a 8-qt. saucepan over high; boil, covered, until mussels start to open, 8 minutes. Remove mussels and strain stock through a fine mesh sieve; reserve stock. Remove mussel meat from shells, discarding empty shells. Melt butter in pan; add garlic, shallots, and parsley and cook until soft, 5 minutes. Meanwhile, add reserved broth to a 2-qt. saucepan over medium-high; add salsify and cook until tender, 8 minutes. Using a slotted spoon, remove salsify and set aside; add broth to pan with shallots and garlic, along with half of the mussel meat. Simmer 5 minutes; remove parsley and purée until smooth; strain through a fine mesh sieve and return to pan. Add remaining mussel meat, the reserved salsify, salt, and pepper; simmer 5 minutes. Divide between bowls and serve with buttered croutons.