Recipes
Skillet-Fried Pork Chops with Peach Jam
The perfect accompaniment to this humble cut? Peak-season preserves.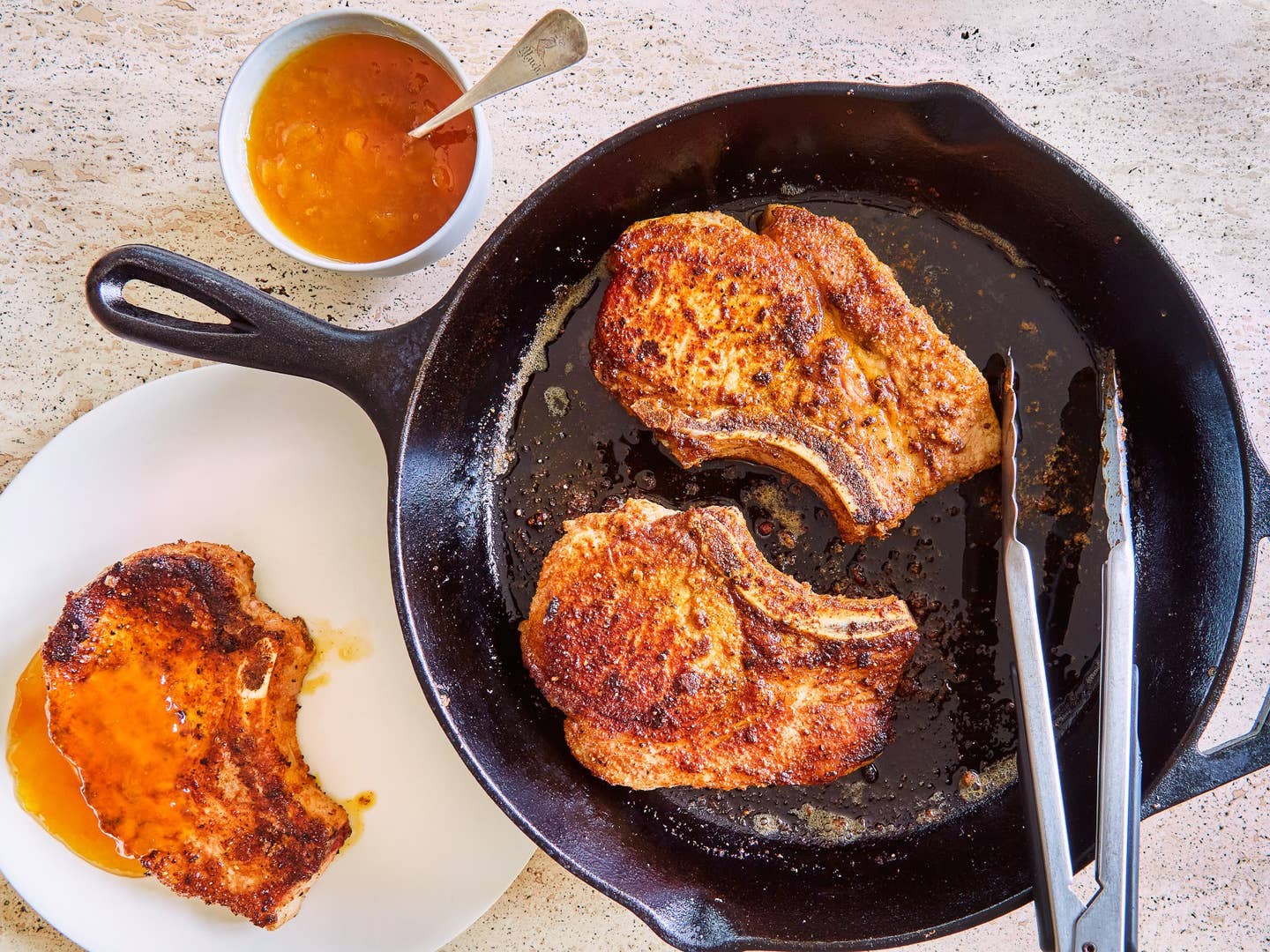 Tangy, sweet peach jam balances the richness of these pan-fried pork chops inspired by California peach farmer David Mas Masumoto. Store the chops, marinade and all, in zip-top freezer bags to transport. The key to a good sear is simple: flip less. Let the crust caramelize before flipping to the other side. Feel free to swap the accompaniment out for your own favorite preserves, or try one of our favorites from best jams, jellies, and preserves.
Ingredients
Eight 10-oz. bone-in pork chops, about 1-inch thick
2 tbsp. garlic powder
2 tbsp. ground mustard
1 tbsp. pimentón (smoked paprika)
2 tsp. freshly ground black pepper
Kosher salt
1⁄3 cup olive oil, divided
Peach jam, for serving (optional)
Instructions
Step 1
Place the pork chops in a 9-by-13-inch baking dish. In a small bowl, stir together the garlic powder, ground mustard, pimentón, and black pepper. Season to taste with salt, then rub the spice mixture all over the pork chops. Cover with plastic wrap and set aside at room temperature for up to 1 hour or refrigerate overnight.
Step 2
In a large cast-iron skillet, heat 3 tablespoons of oil over medium high heat. Working in batches and adding more oil as needed, cook the chops, flipping once, until browned and cooked through, about 5 minutes per side. Transfer to a serving platter and serve hot, with peach jam, if desired.