Recipes
Terrine de St-Jacques aux Poireaux (Scallop and Leek Terrine)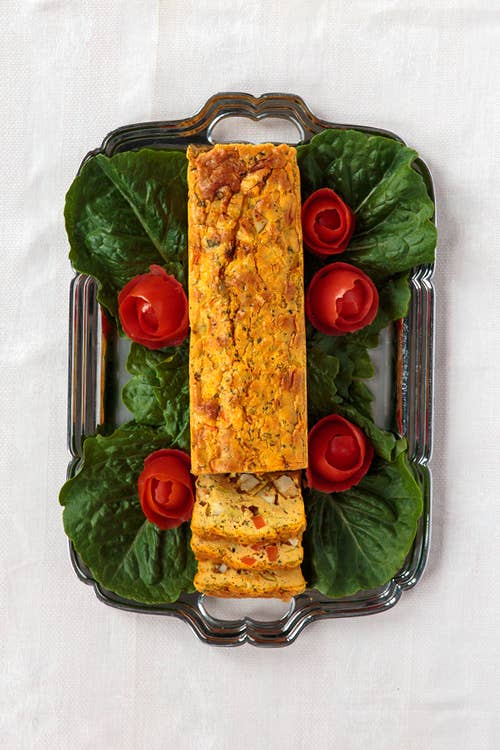 Curry powder and smoky piment d'Espelette, a mild, complex chile powder made with a pepper grown in the Basque region of France, contribute a warming kick to this custardy terrine. This recipe first appeared in our April 2014 issue with Laura Loesch-Quintin's story Looks Like Fish.
Ingredients
Kosher salt, to taste
1 medium carrot, cut into ½″ pieces
1 medium leek, white and light green parts only, halved and sliced ½″ thick crosswise
1 cup heavy cream
1⁄2 cup flour
1 tbsp. minced chives
1 tbsp. minced dill
2 tsp. minced parsley
1 tsp. piment d'Espelette
1⁄2 tsp. curry powder
6 eggs
Zest of 1 lemon, plus 2 tsp. juice
8 large sea scallops, cut into ½″ pieces
Unsalted butter, for greasing
Lettuce leaves and tomato rosettes, for garnish (optional)
Instructions
Step 1
Bring a 4-qt. saucepan of salted water to a boil. Cook carrot and leek until soft, 3–5 minutes; transfer to an ice bath until cold, then drain and set aside. Whisk cream, flour, chives, dill, parsley, piment d'Espelette, curry powder, eggs, lemon zest and juice, and salt in a bowl until smooth. Fold in reserved carrot and leek, and the scallops; set aside.
Step 2
Heat oven to 375°. Grease a 1 ½-qt. terrine mold or loaf pan with butter and line with parchment paper, leaving 4″ hanging over edges. Spread scallop mixture into prepared mold; place in a roasting pan. Pour boiling water into pan to reach halfway up sides of terrine; bake until top is golden brown and filling is firm, 45 minutes to 1 hour. Let cool in roasting pan; remove and chill, uncovered, until cold, about 30 minutes. Holding edges of parchment paper, lift terrine out of mold and transfer to a serving platter. Cut crosswise into 1″-thick slices; garnish with lettuce leaves and tomato rosettes, if you like.