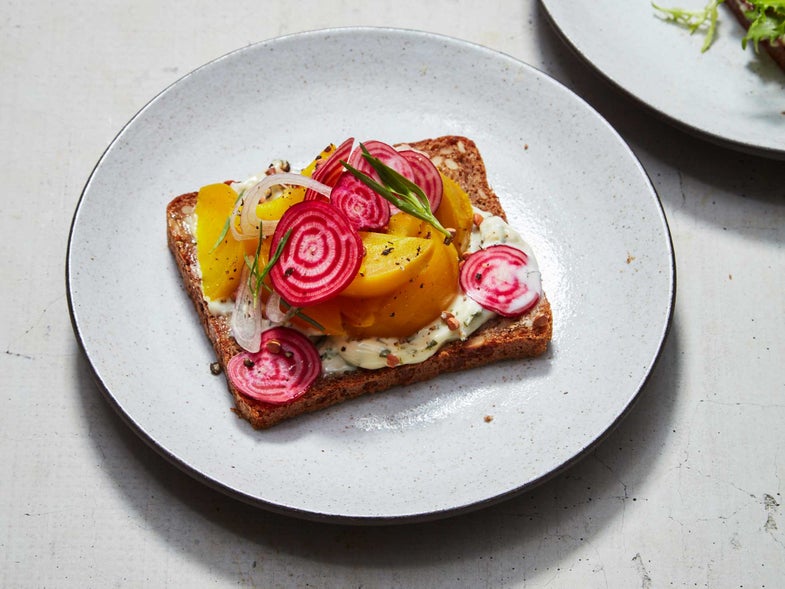 Tarragon and yellow beets give this Danish open-face sandwich its unique flavor.
Beet Smorrebrod
Tarragon and yellow beets give this danish bread dish its unique flavor.
Time: 45 minutes
For the smorrebrod:
3 medium yellow beets, plus 1 small yellow beet for garnish
Kosher salt
Freshly ground black pepper
1 small shallot, thinly sliced
Tarragon leaves, for garnish
4 tbsp. buckwheat
Four 1⁄4-inch-thick slices Danish-style rye bread
For the tarragon mayonnaise:
1⁄4 cup mayonnaise
2 packed tbsp. chopped tarragon leaves
Kosher salt
Freshly ground black pepper
Instructions
In a small saucepan, add the 3 medium yellow beets and enough water to cover by 1 inch; bring to a boil, then season with 1 tablespoon kosher salt. Cook until the beets are tender when poked with a paring knife, about 35 minutes. Drain and run the beets under cool water while peeling away the skins. Slice away any remaining or unattractive ends.
Transfer the cooked beets to a cutting board and cut each into 8 wedges; season with salt and set aside.
Meanwhile, make the tarragon mayonnaise: In a small bowl, combine the mayonnaise, tarragon, and a pinch each salt and pepper; stir well to combine. Cover and refrigerate until ready to use.
Using a mandolin, thinly slice the remaining raw yellow beet and the chioggia beet. Transfer to a small bowl of cold water for 5 minutes to keep crisp.
Meanwhile, in a small dry skillet, add the buckwheat over medium-high heat. Cook, tossing or stirring occasionally, until fragrant and lightly toasted, 5-7 minutes. Remove to a small bowl.
To assemble, spread each of the rye bread slices with about 2 teaspoons of the prepared tarragon mayonnaise. Top with the cooked beets, overlapping the pieces slightly, then top decoratively with a few slices each of the raw yellow and chioggia beets. Garnish with a few sliced shallots, the buckwheat, and tarragon leaves to taste. Season with salt and pepper and serve.