Recipes
Beet Smorrebrod
Tarragon and yellow beets give this Danish open-face sandwich its unique flavor.
Serves

makes 4

Cook

45 minutes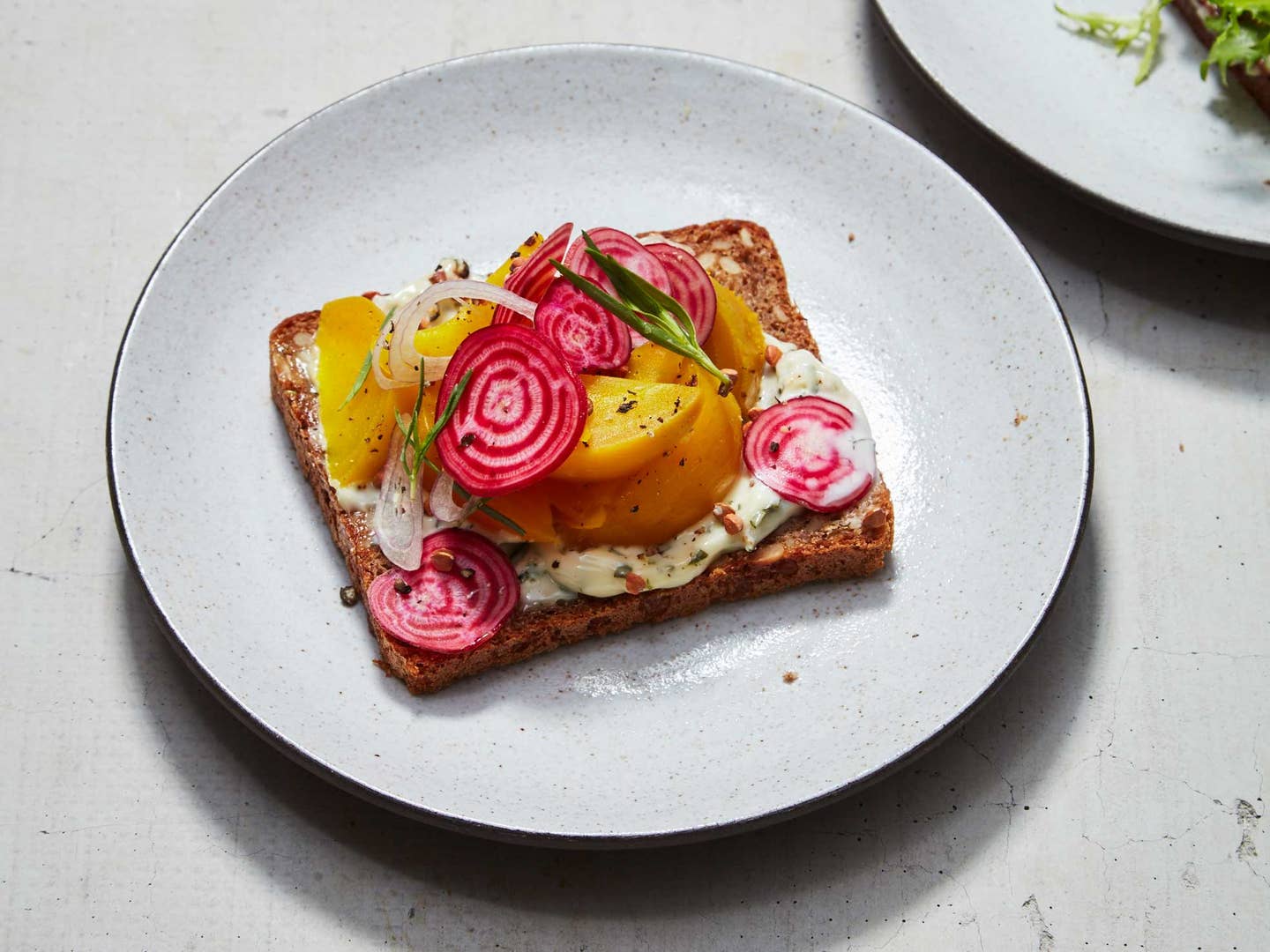 Danes tuck into smørrebrød, or open-faced sandwiches, at cafes specializing in the nation's most famous lunch dish. Traditional versions consist of buttered dark rye topped with everything from fresh veggies to pickled herring. Our recipe showcases tender yellow and chioggia (candy stripe) beets slicked with tarragon mayonnaise.
Ingredients
For the smorrebrod:
3 medium yellow beets, plus 1 small Choggia beet for garnish
Kosher salt
Freshly ground black pepper
1 small shallot, thinly sliced
Tarragon leaves, for garnish
4 tbsp. buckwheat
Four 1⁄4-inch-thick slices Danish-style rye bread
For the tarragon mayonnaise:
1⁄4 cup mayonnaise
2 packed tbsp. chopped tarragon leaves
Kosher salt
Freshly ground black pepper
Instructions
Step 1
In a small saucepan, add the 3 medium yellow beets and enough water to cover by 1 inch; bring to a boil, then season with 1 tablespoon kosher salt. Cook until the beets are tender when poked with a paring knife, about 35 minutes. Drain and run the beets under cool water while peeling away the skins. Slice away any remaining or unattractive ends.
Step 2
Transfer the cooked beets to a cutting board and cut each into 8 wedges; season with salt and set aside.
Step 3
Meanwhile, make the tarragon mayonnaise: In a small bowl, combine the mayonnaise, tarragon, and a pinch each salt and pepper; stir well to combine. Cover and refrigerate until ready to use.
Step 4
Using a mandolin, thinly slice the remaining raw yellow beet and the chioggia beet. Transfer to a small bowl of cold water for 5 minutes to keep crisp.
Step 5
Meanwhile, in a small dry skillet, add the buckwheat over medium-high heat. Cook, tossing or stirring occasionally, until fragrant and lightly toasted, 5-7 minutes. Remove to a small bowl.
Step 6
To assemble, spread each of the rye bread slices with about 2 teaspoons of the prepared tarragon mayonnaise. Top with the cooked beets, overlapping the pieces slightly, then top decoratively with a few slices each of the raw yellow and chioggia beets. Garnish with a few sliced shallots, the buckwheat, and tarragon leaves to taste. Season with salt and pepper and serve.