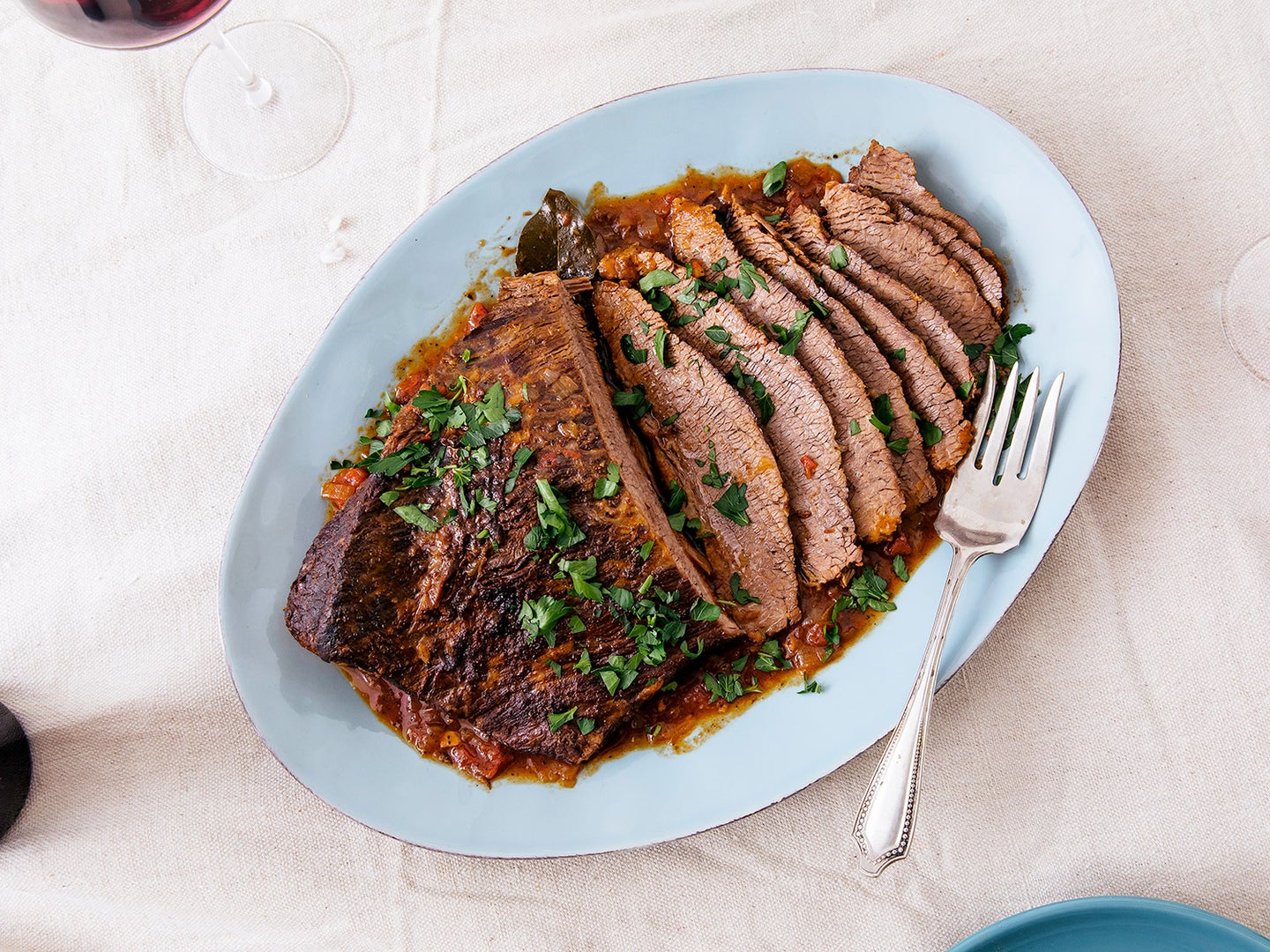 Braised in an aromatic tomato-based broth, this traditional Jewish-style brisket tastes even better the next day, after the flavors have had more time to mingle. It's a family recipe from food writer Kelly Alexander, who learned it from her grandmother Lillian ("Lil") Pachter.
Get seasonal recipes, methods and techniques sent right to your inbox—sign up here to receive Saveur newsletters. And don't forget to follow us on Instagram at @SaveurMag.
What You Will Need
Classic Jewish Braised Brisket
This traditional Jewish brisket is braised in an aromatic tomato-based chicken broth, and tastes even better the day after you've made it.
3 hours, 45 minutes
Ingredients
1 Tbsp. kosher salt
1 Tbsp. freshly ground black pepper
1 Tbsp. paprika
2 tsp. dried oregano
1 (5-lb.) beef brisket, trimmed of some of its fat
3 Tbsp. vegetable oil
1 (14 1/2-oz.) can chopped tomatoes
2 bay leaves
3 medium yellow onions, peeled and thinly sliced
3 cloves garlic, peeled and chopped
Instructions
Preheat oven to 350°F. Combine salt, pepper, paprika, and oregano in a small bowl, then rub all over brisket.
Heat oil in an ovenproof enameled cast-iron pot or other heavy pot with a tight-fitting lid, just large enough to hold brisket snugly, over medium-high heat. Add brisket to pot and brown on both sides, about 10 minutes per side. Transfer brisket to a platter and pour off fat from pot. Add stock, tomatoes, and bay leaves to pot and scrape any browned bits stuck to bottom of pot with a wooden spoon. Return brisket and any accumulated juices to pot and scatter onions and garlic over meat. Cover pot, transfer to oven, and braise brisket for 1 hour. Uncover pot and continue to braise brisket for 1 hour more.
Push some of the onions and garlic into braising liquid surrounding brisket. Check meat for tenderness by piercing center with tip of a sharp knife; it should slide in easily when fully cooked. Cover pot, return to oven, and continue to braise brisket, checking on tenderness of meat occasionally, until very tender when pierced, up to 2 hours more.
Transfer brisket to a cutting board and loosely cover with foil. The onions and garlic in the pot should be very soft, and braising juices should be rich and saucy. If juices are thin, transfer pot to top of stove and simmer over medium heat until juices thicken, about 5 minutes. Slice brisket across the grain and transfer to a warm serving platter. Spoon onions, garlic, tomatoes, and juices on top. Discard bay leaves before serving.