Classic Spaghetti Puttanesca
Rumor has it this dish was the quick and easy dinner of choice among Neapolitan working ladies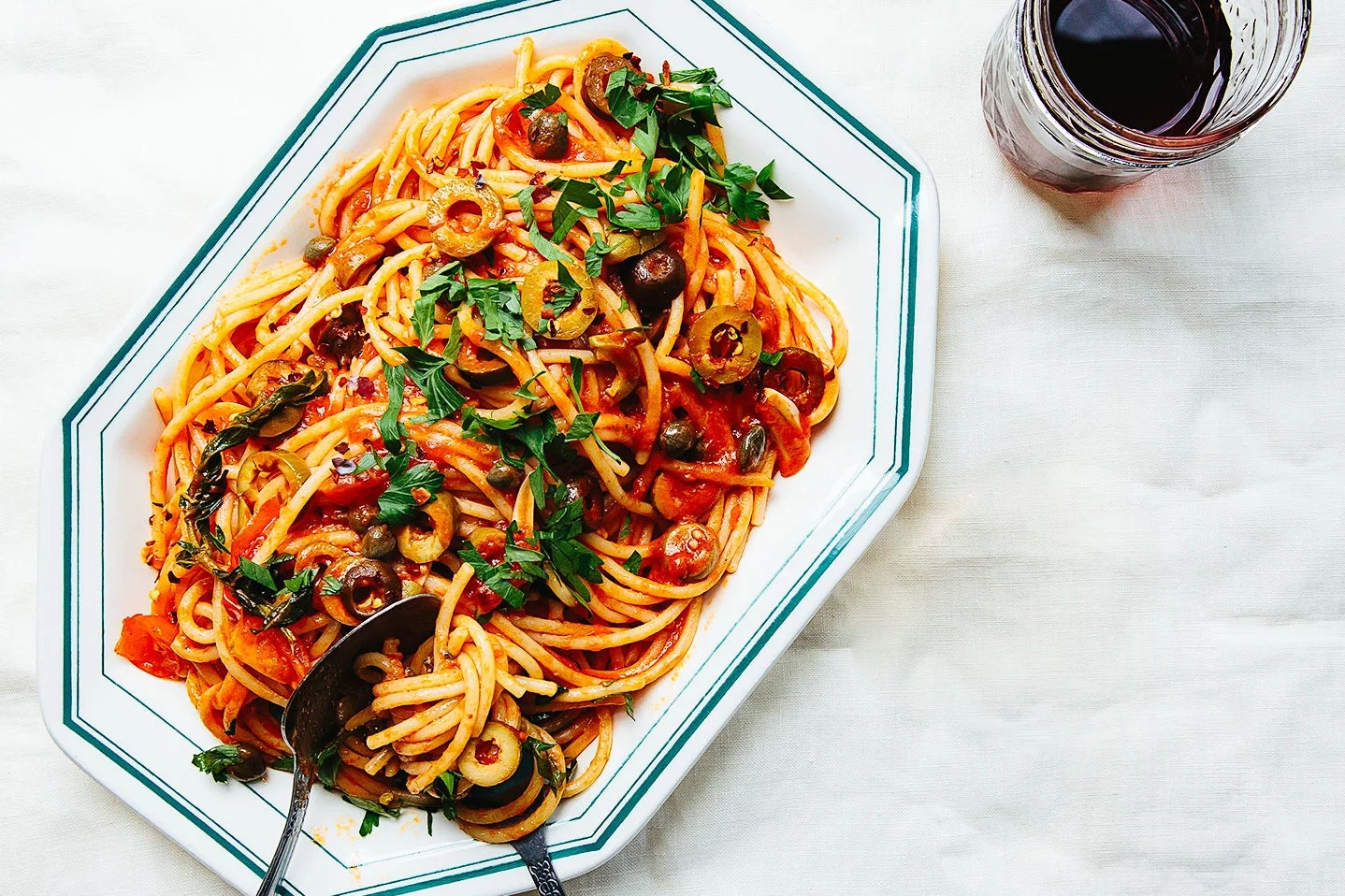 Rumor has it that pasta puttanesca–literally "whore's pasta"–was a quick and easy dinner of choice among Neapolitan working ladies. Italian food historian and translator Jeremy Parzen suggests that the dish's salatious history is unlikely, instead pointing to the fact that "the noun puttana and the adjective puttanesco are derived from the Italian putto, 'boy.' By the sixteenth-century (long before tomatoes and dried pasta were popular in Italian cuisine), the term puttanesco was already used in Italian to denote something belonging to a 'lesser station in life,'"…the qualifier alla puttanesca refers to the fact that it is not a rich dish…It's a dressing for pasta made savory by combining "humble" ingredients."
Whatever its history, this pungent, salty dish is a quick and easy weeknight dinner for any time of year. Big, salt-packed capers, whole anchovies, and plenty of coarsely chopped olives balance the sweetness of canned tomatoes.
What You Will Need
Yield: serves 4-6
Time: 35 minutes
Ingredients
1⁄3 cup extra-virgin olive oil
3 whole large garlic cloves, thinly sliced
6 whole fillets oil-packed anchovies
1 whole 14-oz. can crushed tomatoes
6 whole cherry tomatoes, quartered
3⁄4 cup mixed green and black olives (3 ½ oz.), sliced
3 tbsp. large, salt-packed capers, soaked 15 minutes in water, then drained
1⁄2–1 tsp. red pepper flakes
1 sprig fresh oregano
Kosher salt
1 lb. spaghetti
Coarsely chopped Italian parsley, for serving
Instructions
In a large skillet, heat the olive oil over medium-high heat. Once shimmering, add the garlic and anchovies and cook until very fragrant but not yet colored, 15-20 seconds. Stir in the canned and fresh tomatoes, olives, capers, red pepper flakes, and oregano; bring to a simmer, then lower the heat to medium-low. Cook until the liquid has reduced slightly, 5-7 minutes. Remove from heat.
Meanwhile, cook the pasta: Bring a large pot of salted water to boil over high heat. Add the spaghetti and cook until just barely al dente, 8-9 minutes. Drain, reserving ½ cup of the pasta-cooking water. Return the sauce to medium heat, then add the pasta and the reserved water to the skillet. Toss to coat, stirring vigorously to finish cooking the pasta and thicken the sauce slightly, 2-3 minutes.
Transfer to a large serving bowl or platter if desired. Sprinkle with chopped parsley and serve immediately.