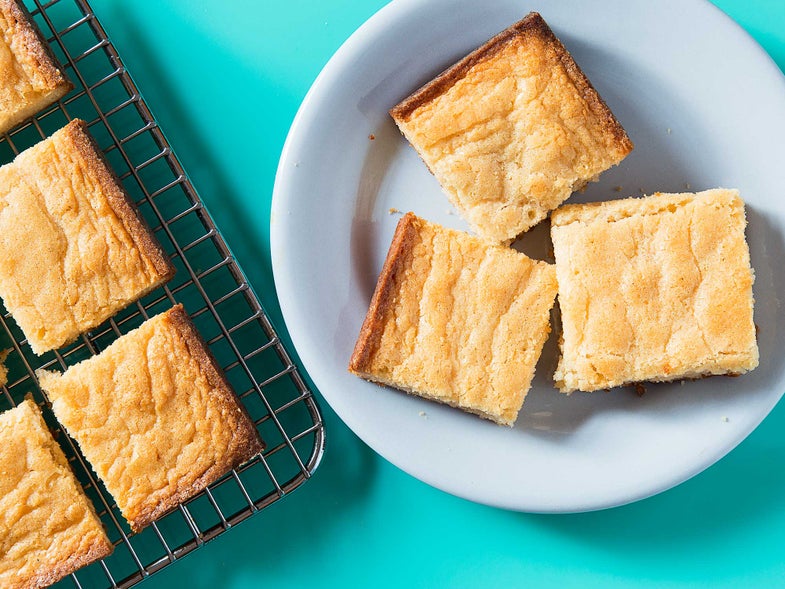 With their powerful coconut flavor, chewy texture, and crisp edges, these gluten- and dairy-free all-coconut bar cookies (made with coconut extract, oil, and flour) are the ultimate macaron.
Featured in: Love Coconut? Bake These Better-Than-Macaroon Bar Cookies
Coconut "Macaroonies"
Coconut in three forms–oil, extract, and flour–intensify the flavor in these simple, gluten-free bar cookies.
Time: 1 hour
Ingredients
8 oz. high quality white chocolate
1 cup coconut oil
1 1⁄2 cups (10 1/2 oz.) sugar
1 tsp. coconut extract
1⁄2 tsp. vanilla extract
1⁄2 tsp. kosher salt
6 egg whites, lightly beaten
1 1⁄2 cups coconut flour
Instructions
Heat the oven to 350° and spray a 9-by-13-inch baking pan with nonstick baking spray then line the bottom with parchment paper. Place the white chocolate in a large bowl and pour the coconut oil into a glass measuring cup. Microwave the coconut oil until it's hot to the touch, then pour it over the chocolate and let stand for 1 minute. Using a whisk, slowly stir the chocolate and oil together until smooth.
Add the sugar, coconut and vanilla extracts, salt, and egg whites and stir until well mixed. Add the coconut flour and stir until just combined. Scrape the batter into the prepared pan, smooth the top, and bake until golden brown and set, 30 to 35 minutes. Transfer the baking pan to a rack and let cool completely. Unmold the macaroonies from the pan, discard the parchment paper, and cut into 12 bars to serve.