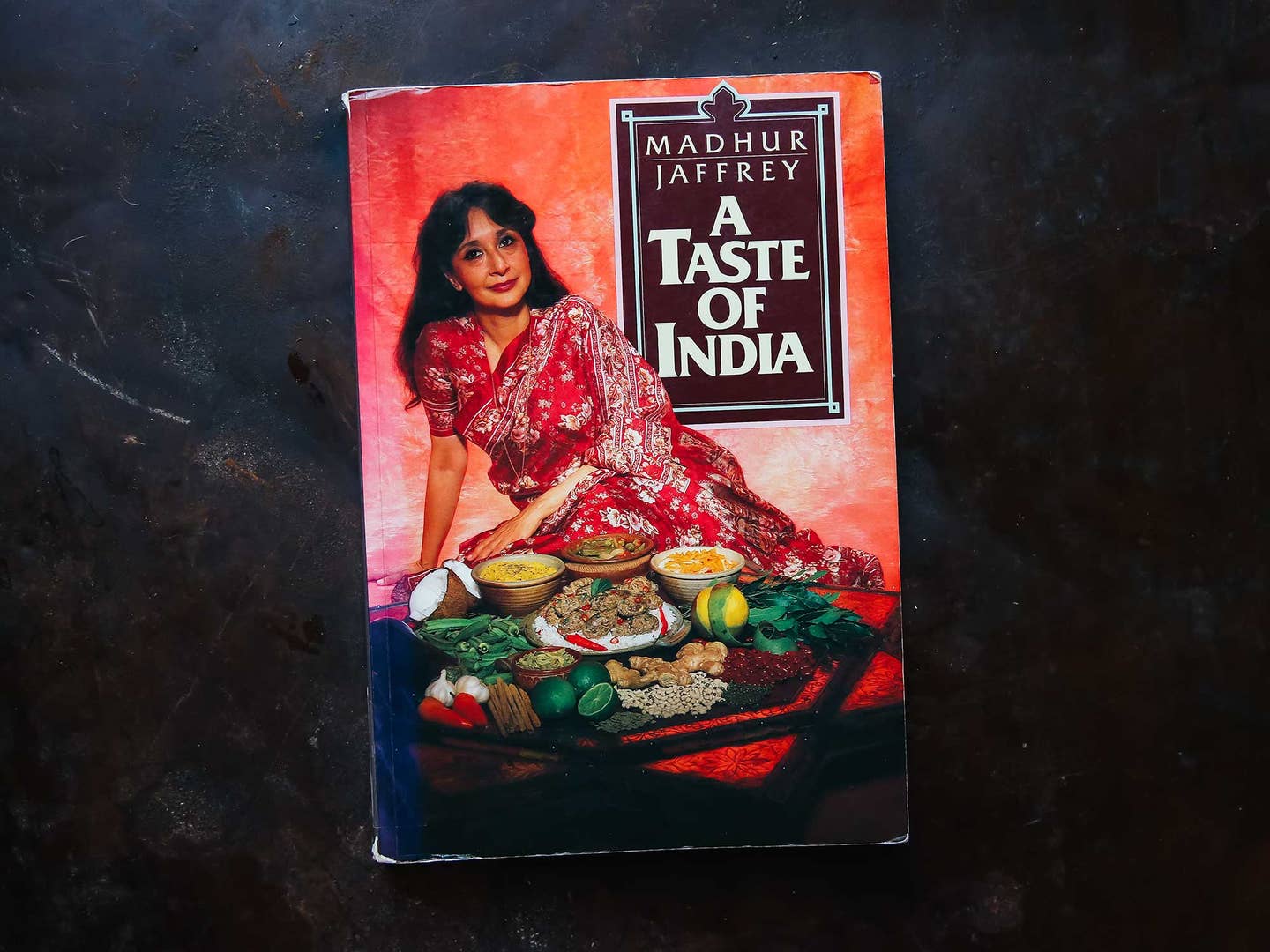 Shopping & Reviews
Madhur Jaffrey's 'A Taste of India' is an Essential Indian Cookbook
The book of Indian regional cuisines was 30 years ahead of its time, and is now more relevant than ever
Each month, our Cookbook Club digs deep into a cookbook and shares our progress online. Today, Chitra Agrawal, author of Vibrant India, reviews Madhur Jaffrey's A Taste of India. Cook along with us and share your results—and questions—with #saveurcookbookclub.
It's difficult not to get engrossed in Madhur Jaffrey's A Taste of India. It's everything I look for in a cookbook: a narrator with personality; colorful storytelling; interesting historical context; and recipes that are just challenging enough, but not out of reach. In this, her fifth book, published in 1985, Jaffrey tackles the daunting task of covering India's vast and varied culinary terrain, one state at a time. One may argue the subject matter stretches too far to fit into a single volume but somehow Jaffrey succeeds.
Each chapter is devoted to an Indian state (except the first one, which is about Jaffrey's hometown of Delhi). In every section Jaffrey sets the scene, taking you on a culinary tour of the region complete with anthropological details on how geography, religion, and history have shaped its food. She also throws in personal anecdotes, invariably juicy observations on daily life in the region, or rhapsodizing on a particular local dish she loves.
Wonderful on-location photography ties it all together, capturing scenes of people working, celebrating, cooking, and eating. 30 years later, the images are still engrossing, though the actual food photography feels more dated.
Though I've been cooking through the book for this month's cookbook club, I've owned A Taste of India for years, and have made my way through a lot of its recipes. They skew towards everyday home cooking; you won't find many bells and whistles. But you will get simple dishes with nuanced flavors that keep you coming back for more.
There are spices and preparations I learned from A Taste of India that I now employ on a regular basis. Take my daily dal, which I picked up from my father. It's spiced with asafetida, turmeric, coriander powder, chile powder, and garam masala, but sometimes I take a page from Jaffrey and vary it with nigella and crushed fennel seeds for a gentle floral lift that completely changes the character of the dish.
Growing up, I was always fascinated by a spiral bound cookbook of my mother's that she reached for more than any other. It was a collection of recipes my aunt compiled from her neighbors while living in a university town in Northern India. Since her neighbors hailed from all over the country, so did their recipes, and they shared their most prized dishes with my aunt.
A Taste of India is much like that for me, and in many ways it reminds me of a community cookbook. Jaffrey provides recipes from her family in the Delhi section, but in order to paint an accurate portrait of the rest of the country she relies on the knowledge of local home cooks.
And she's persistent about getting the details right. I once heard her speak at an event where she explained how she researches recipes for her books. She spoke of how one cook will give her a recipe, but leave out a crucial ingredient, but if she asks enough people, she'll eventually get the dish in its entirety.
Jaffrey is also highly skilled in accurately describing a place and its people. Especially, when I read her sections on Uttar Pradesh and Karnataka where my family is from, the descriptions of the local foods and details of scenes take me right back.
For this project, I selected a number of recipes that I've been drawn to, but had never attempted before. Stuffed Okra from Delhi is the first in the book. It calls for okra to be stuffed with a flavorful spice blend of coriander, cumin, amchoor (dried mango powder), chili powder, salt, and pepper. The amchoor gives the dish a nice tang. It is then fried in oil with thinly sliced onions. Following her instructions, I was a little alarmed at how much the onions shriveled up and browned, but they were wonderful when coated in the spice blend that spilled out of the okra (which is absolutely delicious when rolled in paratha).
Rarely are mushrooms associated with Indian cooking, which is why Mrs. Manohar Nath Kaul's Mushrooms with Fennel and Ginger from Kashmir caught my eye. The mushrooms are cooked with tomatoes, cayenne, and turmeric along with the fennel and ginger for a simple but super flavorful side dish that Jaffrey also says can be served cold as a salad.
I selected Mrs. Prabha Gupta's Potatoes and Peas in a Yoghurt Sauce from the Uttar Pradesh section because I am a savory yogurt fiend. Like many other Indians, my first taste of yogurt was not sweetened and I prefer it not to be. In this recipe, yogurt and besan (Indian chickpea flour) form the base of the curry. I found that it was important to serve this recipe immediately, especially if serving on top of rice, as the chickpea flour in the sauce makes it thicken up very fast. This dish was my least favorite of the bunch, but the next day when it had thickened up it reminded me of an Indian potato salad, and was actually quite delightful on top of buttered toast.
I made Maya's Roasted Moong Dal with Spinach from the Bengali section of the book for two reasons. First, I wanted to get an opportunity to use Panch Phoron—a beautiful blend of cumin, brown mustard, fenugreek, nigella, and fennel—that in this recipe get fried in ghee to finish the dish. The second reason was because the recipe called for the moong dal (split and skinned mung bean) to be roasted before it was cooked, to add a unique earthy and nutty flavor to the dal. Both techniques are worth applying to other recipes, and since writing this article I've revisited the dish several times. It's a winner.
Ahead of its time when it was released 30 years ago, A Taste of India is still in a class of its own; no other cookbook has focused on the regionality of Indian cooking with such rigor and soul. Today, these recipes still ring true and the narrative brings us closer to understanding the rich history, culture and cuisine of India. For decades to come, this cookbook will remain an important source of inspiration and context for those interested in real Indian home cooking.