Recipes
Crispy Philippine Slow-Roasted Pork Belly (Bellychon)
Serves

serves 6

Cook

5 hours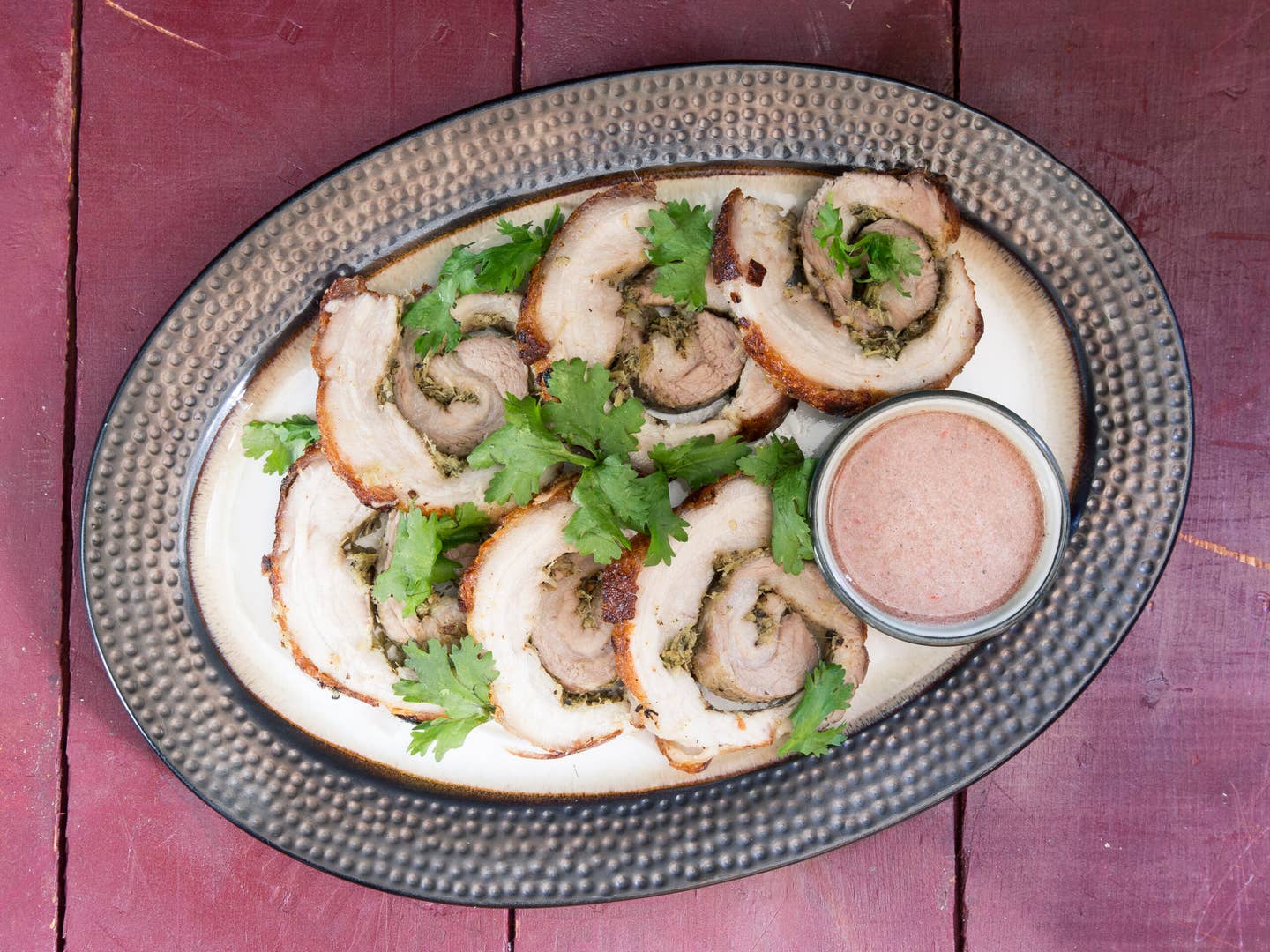 "This is my modern take on the traditional Lechon, which is a whole roasted pig. While many of us don't have the space or equipment to roast a whole pig on a spit over coals, this recipe gives you the ability to recreate the idea and flavors." – Leah Cohen of Pig & Khao
Note: Allow at least one day for brining and a second day for air-drying, which will ensure a crispy skin
Featured in: A Feast for Filipinos
Ingredients
1 cup plus 1 tbsp. sugar
1 cup white vinegar
1⁄2 cup plus 2 tbsp. kosher salt
2 tbsp. plus 1/2 tsp. whole black peppercorns
17 cloves garlic, smashed
3 bay leaves
2 whole star anise
4 lb. pork belly, boneless and butterflied
3 shallots, peeled
1⁄2 cup coconut vinegar
1 whole red Thai chile, stemmed
2 stalks lemongrass
1⁄4 cup cilantro roots, plus cilantro leaves to garnish
1⁄4 cup canola oil
Instructions
Step 1
For the brine: Combine 1 cup sugar, white vinegar, 1⁄2 cup salt, 1 tablespoon peppercorns, 4 garlic cloves, the bay leaves, star anise, and 8 cups water in a large saucepan over high; cook until the sugar and salt have dissolved, then cool. Add pork belly and refrigerate overnight.
Step 2
For the dipping sauce: Combine remaining sugar, 1 tablespoon salt, 3 garlic cloves, 1 shallot, 1 tablespoon peppercorns, the coconut vinegar, and chile in a food processor; purée until smooth, refrigerate until ready to serve.
Step 3
The next day, heat oven to 275°. Combine the remaining salt and garlic, the lemongrass, shallot, peppercorns, and the cilantro roots in a food processor and purée to form a paste. Remove pork belly from brine and rub the inside of the belly with the paste; roll up and tie, then place in a roasting pan and cook 4 hours. Cool, then allow to air-dry overnight, uncovered, in the refrigerator.
Step 4
The next day, heat oil in a 12-inch skillet over medium-high; cook pork belly, rotating as needed, until golden and crispy, 18–20 minutes. Transfer to a cutting board and let stand at room temperature before thinly slicing crosswise into 1⁄4-inch pieces. Serve with dipping sauce.