Recipes
Double Chocolate and Candied-Ginger Cookies
Serves

makes 1 Dozen

Cook

3 hours 45 minutes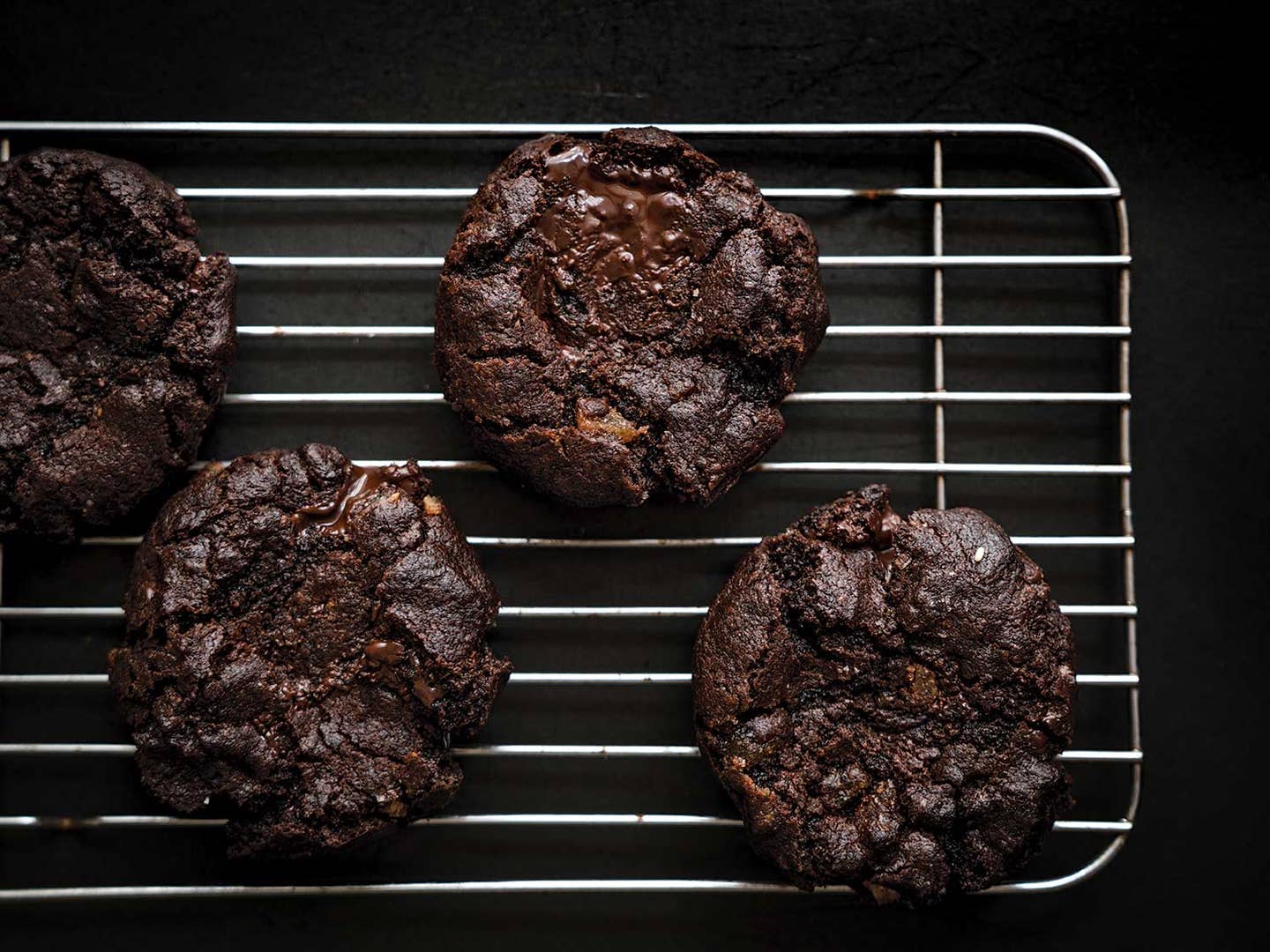 A signature of the café, Moko's thick, fudgy-centered cookies veer away from being too sweet, thanks to the addition of balancing ingredients such as bittersweet chocolate, sea salt, and spicy crystallized ginger. Moko makes her own by simmering the fresh root in syrup, but store-bought candied ginger lends a similar warming quality.
Ingredients
1 1⁄2 cups all-purpose flour, plus more for dusting
1⁄2 cup plus 1 Tbsp. unsweetened cocoa powder
1 tsp. baking powder
1⁄2 tsp. baking soda
5 tbsp. unsalted butter, softened slightly
1⁄3 cup coconut oil
1⁄3 cup sugar
1⁄4 cup light brown sugar
3⁄4 tsp. kosher salt
1 large egg
4 oz. bittersweet chocolate, coarsely chopped (½ cup plus 1 Tbsp.)
3 oz. candied ginger, finely chopped (½ cup)
Flaky sea salt, for sprinkling
Instructions
Step 1
In a medium bowl, sift the flour, cocoa powder, baking powder, and baking soda, and set aside.
Step 2
In the bowl of a stand mixer fitted with the paddle attachment, add the butter, coconut oil, both sugars, and salt. Mix on medium speed until pale and fluffy, 1–2 minutes. Add the egg, and mix until combined, scraping down the bowl as needed. On low speed, add the flour mixture, and mix to incorporate. Mix in the chocolate and ginger until just combined.
Step 3
Turn the dough out onto a sheet of plastic wrap. Press and shape to form a 1-inch-thick rectangle, and wrap tightly. Refrigerate for at least 3 hours.
Step 4
When ready to bake, preheat the oven to 375°F, and line 2 large baking sheets with parchment paper. Lightly flour a work surface and place the dough on top. Slice into 12 equal pieces. Roll each piece into a ball and transfer to the prepared sheets, leaving at least 1 inch between each. Sprinkle with sea salt.
Step 5
Bake until the edges have crisped slightly, 10–12 minutes. Remove and let cool for 5 minutes on the baking sheets, then transfer to a rack to cool completely.