Drinks
Cinnamon-Apple Martini
Calvados, fresh fruit, and spice sparkle in Shannon Mustipher's all-grown-up take on the old-school appletini.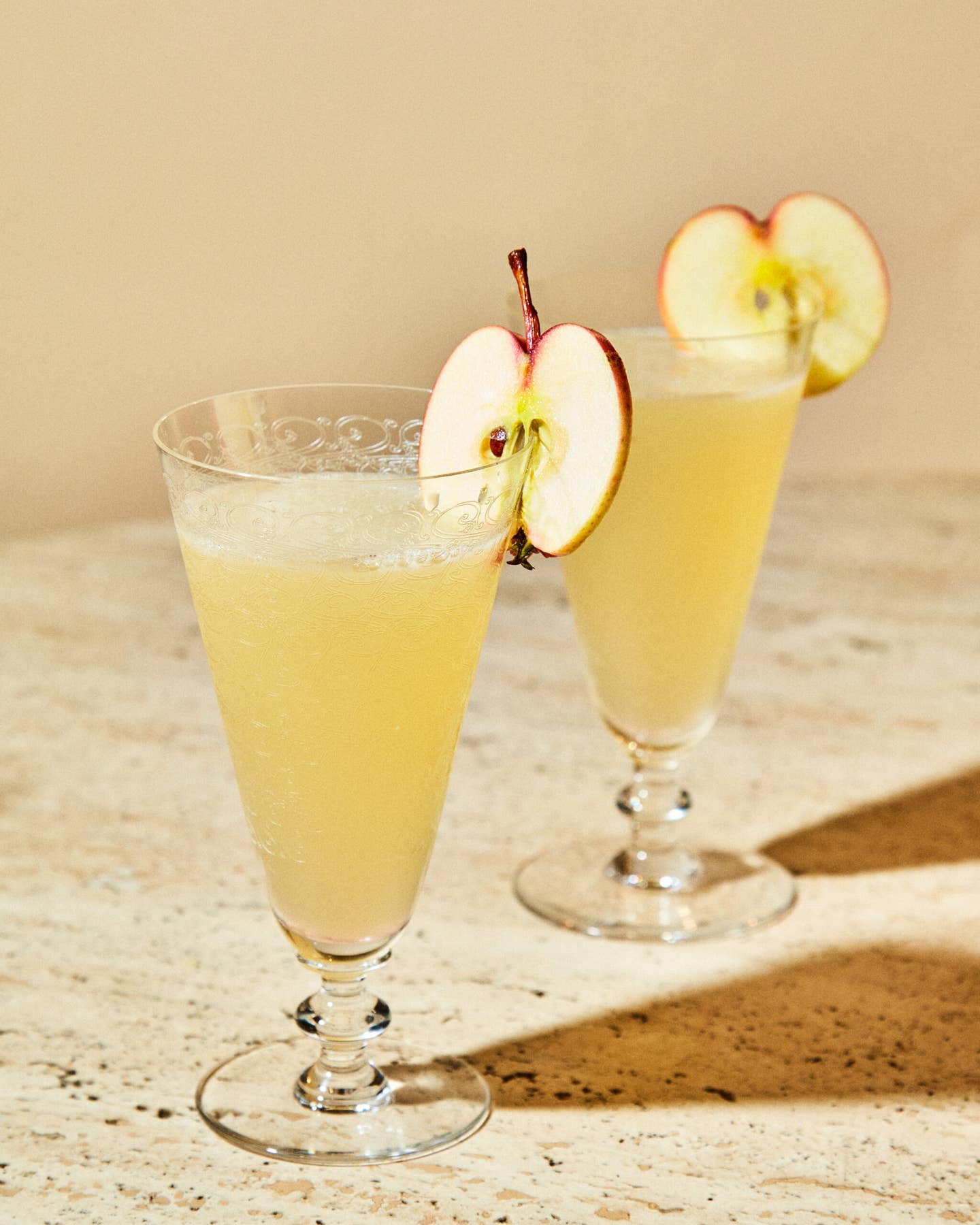 Over the last few years, as craft bars have increasingly sought to revive easy and approachable cocktails associated with retro trends harkening back to the Disco Era, the over-the-top 1990s, and even dive bars, many drinks that were once shunned by such "serious" establishments are now being thoughtfully reconsidered. Taking a somewhat cleaner, sleeker form, these nostalgic serves often feature premium spirits and other specialty ingredients and are assembled using more from-scratch preparation techniques. This cinnamon-scented apple martini recipe is my own reinterpretation of the candy-sweet classic appletini. Be sure to seek out an unsweetened apple brandy such as Calvados—I like Lemorton—or a premium American brand like Laird's. (If you like a sweeter drink, add more toasted cinnamon syrup to taste.)
Ingredients
For the toasted cinnamon syrup:
4–6 medium sized cinnamon sticks
1 cup sugar
For the cocktail:
1 oz. vodka
½ oz. apple brandy or Calvados
½ oz. apple juice
½ oz. toasted cinnamon syrup
¾ oz. fresh lemon juice
Fresh apple slice or dehydrated apple chip, for garnish
Instructions
Step 1
Make the toasted cinnamon syrup: In a small dry pot set over medium-high heat, toast the cinnamon sticks, stirring frequently to prevent scorching, until very fragrant and just beginning to smoke, 2–3 minutes.  Add 2¼ cups water, bring to a boil, then whisk in the sugar to dissolve. Turn the heat down to maintain a simmer and cook for 15 minutes. Remove from heat and set aside to steep at room temperature until the syrup is deeply flavorful, at 45 minutes. (If not using immediately, transfer to a clean, airtight jar, cool to room temperature and refrigerate for up to 1 week.) Remove and discard the cinnamon sticks.
Step 2
Make the cocktail: Fill a cocktail shaker with ice, then add the vodka, apple brandy, apple juice, ½ ounce cinnamon syrup, and lemon juice. Shake well, then strain into a chilled martini glass or coupe. Garnish with a fresh apple slice or dehydrated apple chip, and serve immediately.