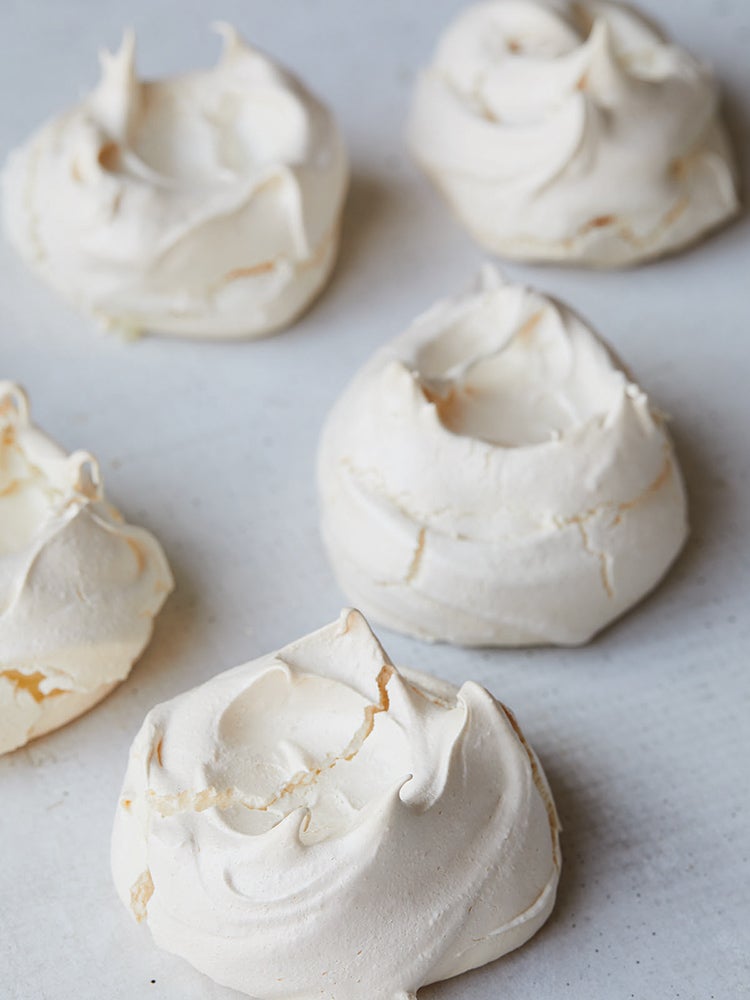 In this recipe adapted from Australian cookbook author Odette Williams, French meringue is baked until perfectly crisp on the outside and gooey and marshmallow-like on the inside. Served with whipped cream, curd, seasonal fruit, or a combination of all three, the individual meringues make an excellent celebratory (and gluten-free!) dessert.
Reprinted with permission from Simple Cake by Odette Williams, copyright © 2019. Photographs by Nicole Franzen. Published by Ten Speed Press, a division of Penguin Random House, Inc.
Featured in: French Meringue Is the Dessert That Will Make You Look Like a Star
Get seasonal recipes, methods and techniques sent right to your inbox—sign up here to receive Saveur newsletters. And don't forget to follow us on Instagram at @SaveurMag.
Equipment
Easy Meringues
In this recipe from Australian cookbook author Odette Williams, French meringue bakes up into crisp shells with gooey centers. They're the perfect canvas for whipped cream, curd, and seasonal fruit.
Yield:
Makes twelve 2½-inch individual meringues
Time: 2 hours, 45 minutes
Ingredients
6 large egg whites, room temperature
1¼ cups plus 2 Tbsp. sugar (300 g)
2 tsp. cornstarch
1 tsp. distilled white vinegar
1 tsp. pure vanilla extract (optional)
Instructions
Preheat the oven to 300°F, with a rack in the center.
Line 2 large baking sheets with parchment paper. Using a 2½-inch round cookie cutter, trace 6 circles on each piece of parchment, spacing about 3 inches apart. Flip the parchment upside down so the marking doesn't end up on the meringue.
In the very clean bowl of a stand mixer fitted with the whisk attachment, add the egg whites, making sure there is no trace of yolk. Beat on low speed, gradually increasing the speed to medium, until soft peaks form, about 4 minutes. Beat in the cornstarch. Increase the speed to medium-high and gradually add the sugar, a few tablespoons at a time. Continue beating until the meringue is smooth, glossy, and tripled in volume. Beat in the vinegar and vanilla (if using) until just combined.
Add dabs of meringue to the corners of the prepared baking sheets to secure the parchment. Using a ⅓-cup measure or ice cream scoop, add a mound of meringue to the center of each circle. Using a spatula or spoon, gently work the meringue to fit the circle and create a slight indentation in the center.
Bake until the meringues are puffed and set but still soft in the center, 30–35 minutes. (After the first 10 minutes, check to make sure the meringues aren't browning; if they are, lower the oven temperature to 275°F.) Turn off the oven and let the meringues cool completely in the oven, at least 2 hours. Remove the meringues from the oven just before serving, with the desired accompaniments.