Make This Easy Upgrade to Radishes With Butter and Salt
Peppery radishes are at their flavorful peak, and we love to use them in this simple salad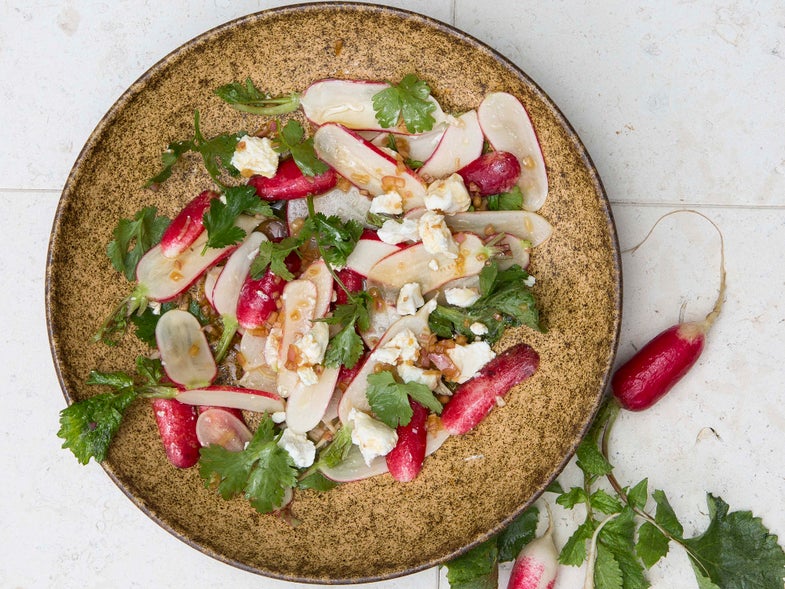 If all you're doing with radishes is slicing them plain onto salads, you're missing out on all they have to offer. These peppery, pleasantly pungent veggies—which come in a whole rainbow of colors and varieties—are good roasted, braised, pickled, and even turned into chips. And right now they're at their peak, fresh and sweet with a clean, bold heat.
Yet for all the ways we love to eat radishes, the utterly simple French method may still be our favorite. Slice radish. Slather generously with room-temperature butter. Blitz with flaky sea salt. And eat. Toast points optional. The whole point is the springy contrast of luxe butter with the clean snap of quality radish. It's practically perfect.
Which is not to say it's the end of the story. In this simple Japan-meets-California salad, radishes are tossed with cilantro and a fragrant rice vinegar and soy sauce vinaigrette before topped with goat cheese. The same themes are there, but made bolder: fresh radish, made fresher with cilantro; creamy dairy, with an added goat cheese twang; ample salinity, with a touch of umami from the soy sauce. Still utterly simple, still utterly delicious.
As Nancy Singleton-Hachisu, the author of this recipe, would put it, radishes may just be the ultimate spring vegetable. Fresh and snappy, good with dairy, and seasonally ephemeral. So go forth and make the most of these red beauties while they're at their best.