Recipes
Baked Custard with Caramel Sauce (Leche Asada)
Serves

serves 4-6

Cook

7 hours 30 minutes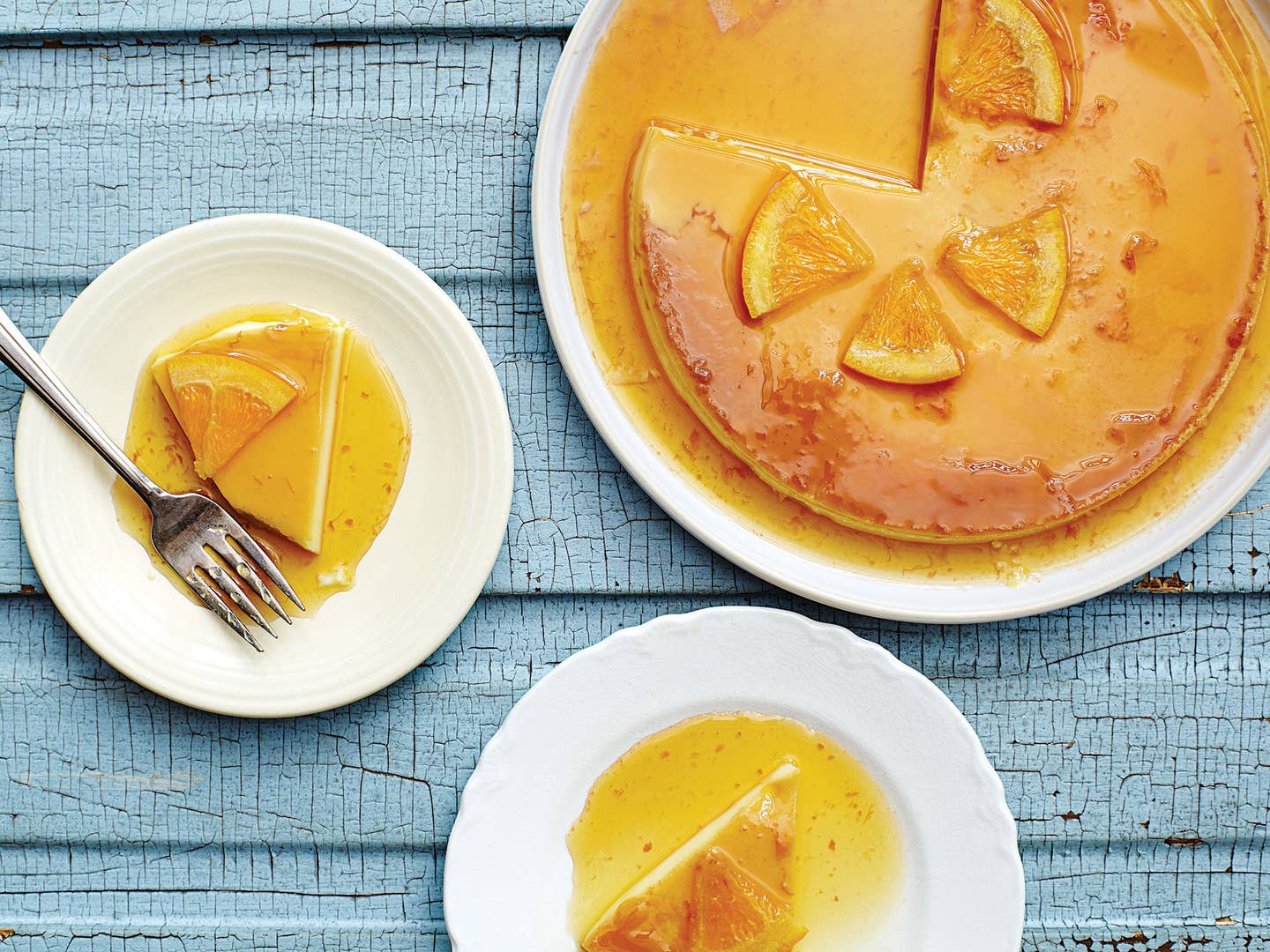 This classic custard is ubiquitous in Chile, where it is served in cups for a quick afternoon snack or baked in a larger pan for a family-style dessert.
Ingredients
3 orange slices, cut 1/4-inch-thick
1 1⁄2 cups plus 2 tbsp. sugar
1 cup fresh orange juice
2 cups whole milk
1 tsp. vanilla extract
1⁄2 tsp. kosher salt
4 large eggs
Instructions
Step 1
Heat the oven to 325°. In an 8-inch square baking dish, sprinkle the orange slices with 2 tablespoons sugar. Drizzle with the orange juice and cover with foil. Bake until very soft, about 40 minutes. Transfer to a rack and let cool. Refrigerate the orange slices in the dish and keep the oven at 325°.
Step 2
In a medium saucepan, heat 1 cup sugar over medium-high and cook, stirring with a heatproof spatula, until the sugar turns dark amber. Remove from the heat and quickly pour the caramel evenly over the bottom of a deep 8-inch pie dish. Let stand for 10 minutes until the caramel hardens.
Step 3
In a small saucepan, combine the milk with the vanilla and salt and then heat over medium. Cook, stirring, until the salt dissolves and the milk just begins to simmer. Remove from the heat and let cool. In a large bowl, whisk the remaining 1⁄2 cup sugar with the eggs until just combined. While whisking, slowly pour the warm milk into the eggs and stir until the sugar dissolves. Pour the custard over the caramel and then place the dish inside a large roasting pan.
Step 4
Transfer the roasting pan to the oven rack and then pour enough boiling water to come halfway up the side of the pie dish. Bake until the custard is set on the edges but still slightly loose in the center, about 1 hour. Transfer the roasting pan to a rack and then lift the pie dish from the water bath and set it on a rack to cool completely. Refrigerate the custard at least 4 hours or overnight.
Step 5
To serve, invert a serving plate on top of the pie dish, and then flip the two together and allow the custard and its caramel sauce to fall onto the plate. Lift the orange slices from their syrup and cut each into 6 wedges. Cut the custard into wedges and then garnish each with some of the orange wedges.