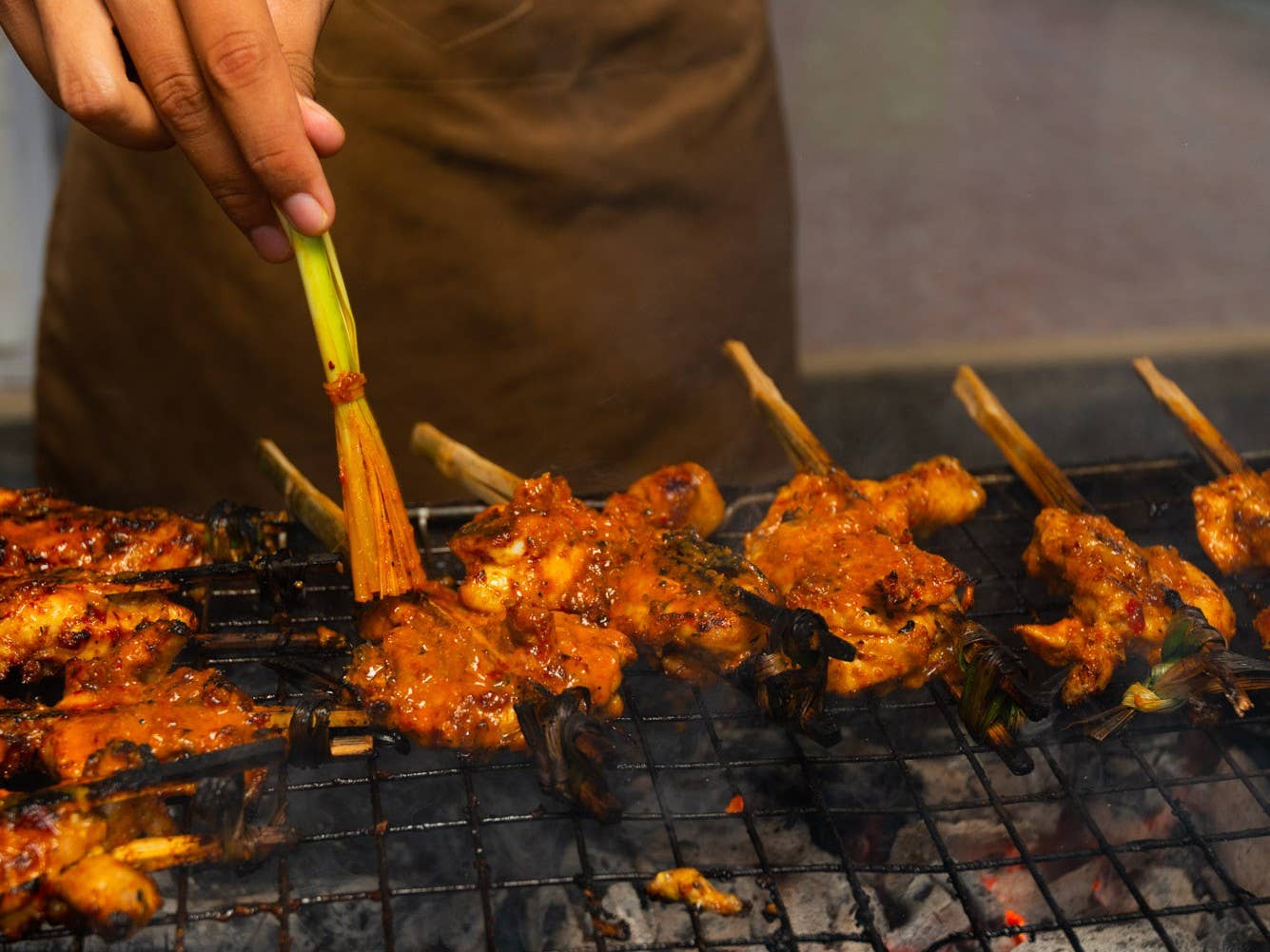 Recipes
This Grilled Chicken Is a Taste of Thailand's Deep South
Rich in Malay culinary influence, smoky spiced kai kawlae is one of the region's best-loved dishes.
If you've been to Thailand, you may have spent time on Phuket or Ko Samui, islands in the country's southern region, but it's unlikely you made it down to the predominately Muslim provinces near the Malaysian border. That's because the region has, sadly, for several decades now, been home to a violent insurgency. I am currently researching a book on the food of southern Thailand, and even Thais were shocked that I was interested in visiting the country's southernmost provinces. But after several trips to the area, I found it to be one of the most beautiful, fascinating, and friendly parts of Thailand.
When it comes to ethnicity, culture, and religion, Thailand's deep south has little to do with the rest of the country. Most of its residents are ethnic Malays—Muslims who speak a Malay dialect known as Yawi. Not surprisingly, the region's food also has a lot in common with what you might find south of the border, in Malaysia. Rich, often sweet flavors dominate, and dried spices make frequent appearances. Given the region's lengthy coastline, seafood rules. And given the area's predominant religion, meat dishes are typically halal.
This area's most famous recipe is quite possibly a grilled chicken dish called kai kawlae, or in the local Malay dialect, ayae gawlae. Chicken, seasoned and grilled over coals, is a staple across Thailand, but several things make this southern variant unique. Most notably, the marinade is essentially a curry, which is painted over the meat in layers as it cooks, resulting in a grilled bird that's rich, extremely fragrant, and smoky.
The following recipe comes from Aisamaae Tokoi, a chef and teacher at Luukrieang, a non-governmental organization that provides housing and education for children orphaned by the insurgency.
Unlike elsewhere in Thailand, where chicken is typically brined or flavored with a handful of pungent aromatics, the marinade for kai kawlae is more akin to curries used in Southeast Asian curries. The cook pounds herbs and dried spices in a mortar and pestle, fries the resulting paste in oil until fragrant, then simmers it in coconut milk, resulting in a thick sauce.
While classic Thai aromatics—galangal, ginger, and lemongrass—feature prominently in the dish, this mixture also has several attributes of Malay-style cooking, particularly the use of dried spices like fennel and fenugreek seeds, two ingredients rarely seen elsewhere in Thailand. In typical Thai style, these ingredients are first dry-roasted to bring out as much aroma as possible. Similarly, the dish's dried chilies are also toasted, their ribs and seeds removed, emphasizing a deep smoky aroma rather than heat.
"This dish shouldn't be spicy," says Aisamaae. "It should be sweet and salty—and a bit tart." The acidity in the sauce comes from slices of dried asam fruit, which is common in Southern Thai Muslims' cooking. It's sharp flavor and a distinctive aroma are not unlike those of Chinese-style dried plums or tamarind.
These elements are simmered together in rich and fatty fresh coconut milk. If the fresh stuff is unavailable, boxed ("UHT") coconut milk gets the job done; avoid the stuff in cans, which often includes emulsifiers and other ingredients that prevent the sauce from cooking to the proper consistency.
In Thailand's deep south, a large granite mortar and pestle is traditionally used to process the spices to a paste, but a food processor or blender also works (add additional coconut milk, a couple of tablespoons at a time, if the mixture is too dry to catch the blade). And know that it's no compromise to make the marinade a few days in advance; it keeps well in the fridge for up to a week.
Another unique aspect of kai kawlae is how the marinade is applied during cooking.
In Malay, golek—the local pronunciation of kawlae—means "to flip over," and for this dish, the chicken is indeed turned as it cooks. It's also repeatedly brushed with the spicy marinade; when one side gets crispy and close to charred, the skewers are flipped and painted again, resulting in tender, juicy meat encased in smoky, concentrated layers of flavor. "Usually we use the whole chicken for this dish—even the intestines!" Aisamaae explained, though when he demonstrated the recipe, he prepared only the thighs, which are particularly juicy and tender. While local vendors typically grill the dish on bamboo skewers for ease of service, when grilling at home, it's also possible to cook the pieces unskewered, turning them with tongs. In Thailand's deep south, this grilling is typically done over coals; a gas grill or even a broiler will work, though neither will impart the dish's signature smoky flavor.
Kai kawlae isn't merely part of the meal, it is the meal. With a side of rice, it's the kind dish that southern Thais might enjoy for a picnic on the beach or purchase from a street vendor for a quick lunch.
If chicken isn't your thing, the dish is also frequently made with shelled and skewered cockles, which are marinated and grilled in the same manner. "It's also a great recipe for people who don't eat meat," says Aisamaae. "My dad doesn't eat chicken, so I make the dish with eggplants." Firm, fried tofu is another vegetarian variation, and chef and cookbook author Andy Ricker suggests skewering meaty oyster mushrooms.