The Ultimate Chicken Schnitzel Sandwich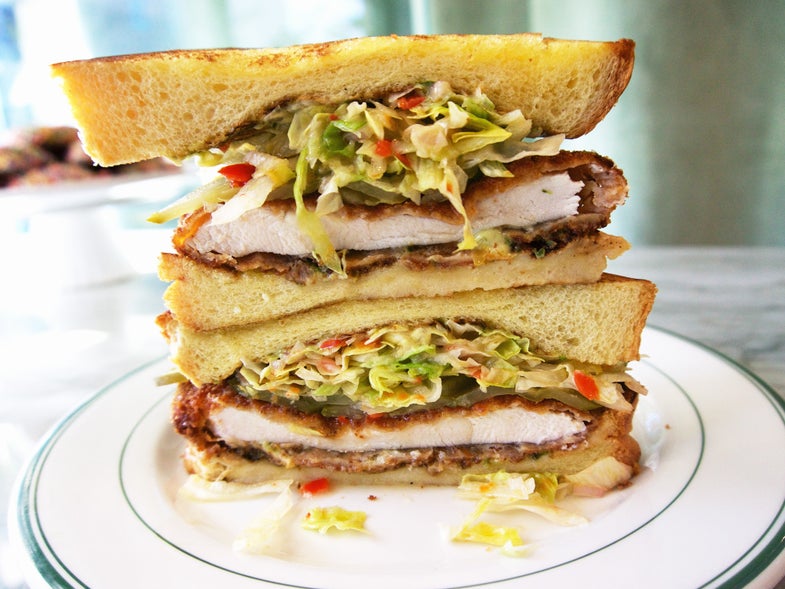 Raegan Steinberg, co-owner of Arthur's Nosh Bar in Montreal's hip Saint-Henri neighborhood, calls her partner chef Alex Cohen an "everything and the kitchen sink kind of cook." Called the McArthur Sandwich, this high-piled schnitzel-filled creation adapted from the restaurant is the perfect example of his genius. Pounded and breaded chicken is topped with sweet honey, salty dill pickles, and vinegar-y iceberg slaw, then served upon crispy challah toast. The secret to the crunchy yet hearty schnitzel breading: instant mashed potato flakes mixed into the breadcrumbs.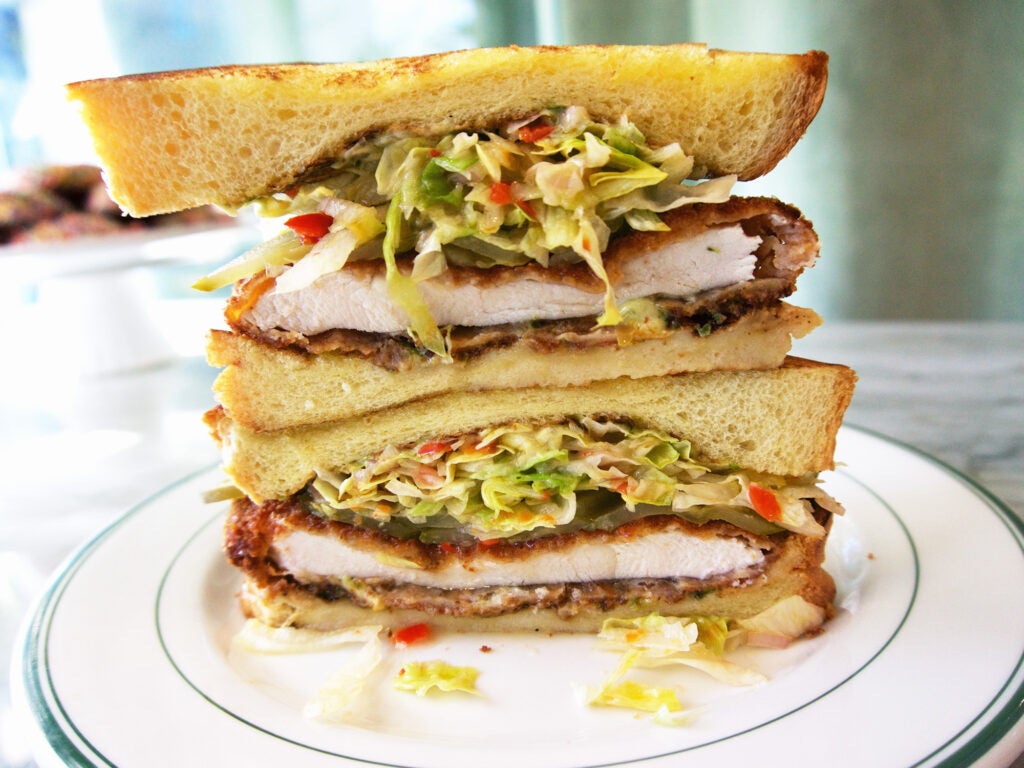 The Ultimate Fried Chicken Schnitzel Sandwich
The Ultimate Fried Chicken Sandwich
The Ultimate Chicken Schnitzel Sandwich
Pounded and breaded chicken is topped with sweet honey, salty dill pickles, and vinegar-y iceberg slaw, then served upon crispy challah toast.
Yield:
makes 4 sandwiches
Time: 3 hours
For the chicken
2 cups buttermilk
One 6-oz. container plain yogurt
1 tbsp. Montreal steak spice (optional)
1⁄4 cup medium sized Spanish onion, finely grated
2 garlic cloves, finely grated
1 tsp. kosher salt
2 large chicken breasts, halved crosswise, then each piece pounded to 1/4 inch thickness
One 8-oz. box instant mashed potato mix (3 cups)
2 1⁄2 cups breadcrumbs (10 oz.)
3 cups all-purpose flour, divided
Salt and pepper
2 tsp. paprika
1 tsp. garlic powder
1 tsp. onion powder
3 eggs
Canola oil, for frying
For the sandwich
4 cups thinly sliced iceberg lettuce (8 oz.)
2 pickled chiles, finely chopped
1 large shallot, thinly sliced
1⁄4 cup extra-virgin olive oil
2 tbsp. red wine vinegar
Salt and pepper
Honey, for drizzling
1⁄2 lemon, for squeezing
1⁄2 cup mayonnaise
2 tbsp. chunky chile paste, such as Israeli schug
1 large loaf challah cut into eight ½-inch slices
Softened or melted butter, for spreading
Kosher dill pickles, sliced lengthwise
Instructions
Marinate the chicken: In a large bowl, add the buttermilk, yogurt, grated onion, steak seasoning (if using), grated garlic, and kosher salt; whisk to combine. Add the chicken breasts, making sure the pieces are fully covered. Cover and refrigerate at least 2 hours and up to 24.
Prepare the chicken breading: In a large bowl, add the instant potatoes, breadcrumbs, 1 cup flour, 1 tablespoon kosher salt, and ½ teaspoon black pepper. Whisk to combine. In a separate large bowl, add the remaining 2 cups flour, the paprika, garlic powder, onion powder, and cayenne. Season with 1 teaspoon kosher salt and ¼ teaspoon black pepper, and mix well. In a final large bowl, add the eggs and 1 cup of the buttermilk marinade from the chicken. Whisk to combine.
Fry the chicken: Place a drying rack atop a rimmed baking sheet and set it next to the stove. In a medium Dutch oven or pot (it should be large enough to fit one to two of the butterflied chicken pieces without crowding), add enough oil to reach 2-3 sides up the sides of the pan. Heat over medium-high heat until a deep-fat thermometer inserted into the oil registers 350°.
Meanwhile, working one at a time, dip the chicken into the flour mixture to coat on both sides, then shake off any excess. Add to the egg mixture until coated, then transfer to the potato and breadcrumb mixture and fully coat. Transfer to a platter or tray.
Add the chicken one piece at a time to the preheated oil. Cook until the outside is golden brown and crispy and the inside is cooked through, about 7 minutes per batch. Remove and transfer to the drying rack; season with salt and squeeze with the lemon juice.
When ready to serve, assemble the iceberg lettuce slaw: In a small bowl, whisk the olive oil, vinegar, and a pinch each salt and pepper, then set aside. In a large bowl, add the lettuce, pickled chiles, and shallot. Refrigerate the lettuce mixture until ready to use.
Toast the challah: Spread both sides of each of the bread slices generously with butter. In a large cast iron skillet or griddle over medium heat, add 4 of the slices and cook, turning as needed with tongs, until browned and lightly crisp on both sides, 6-8 minutes. Repeat with the remaining bread slices. Transfer the bread to a clean work surface.
To finish the sandwich toppings, in a small bowl combine the mayonnaise and schug or chile sauce; stir well.
Reserve 2 tablespoons of the prepared red wine vinaigrette for drizzling onto the sandwiches, and toss the rest into the iceberg slaw to coat.
Assemble the sandwiches: Divide the mayonnaise mixture among each of 4 pieces of toasted challah (coat one side only). Add the chicken pieces, then drizzle with honey and the reserved vinaigrette. Top each chicken piece with 1 cup of the slaw, then top with a few pickle slices. Top with the remaining slices of bread, then slice the sandwiches in half and serve immediately.