Open-Face Crab Salad Sandwich (Gabby Crabby)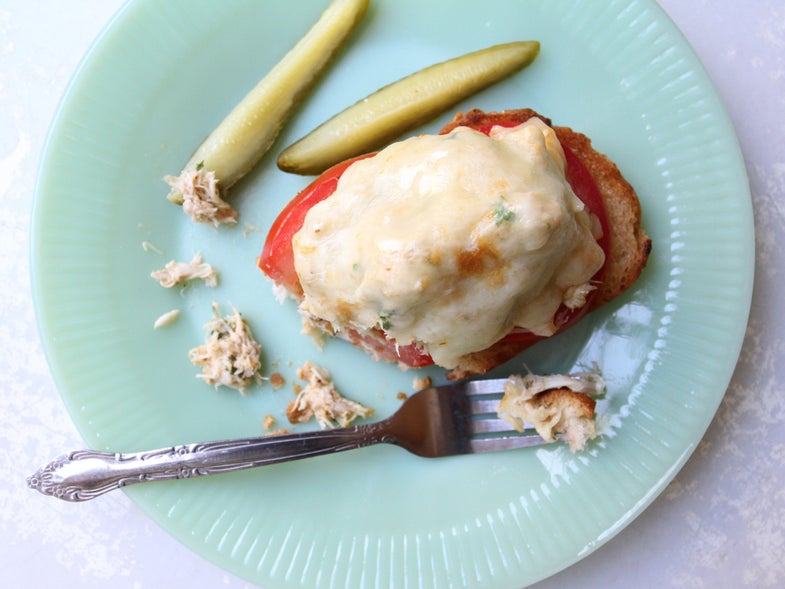 There's a place nestled on the banks of the West River in Galesville, Maryland, just outside of Annapolis, that my dad and I always visit when I'm home: Pirate's Cove. It's about a 15 minute drive from our house, through quiet country roads, antique shops, and historic Maryland landmarks. We sit inside by the window if it's chilly, or outside on the deck right over the water when it's nice, gazing at the sailboats while my dad offers life advice—sometimes solicited, often unsolicited. I always get the same thing: the Crab Lover's Combo, a Gabby Crabby (an open-face sandwich composed of an English muffin, sliced tomato, crab salad, and melted Muenster cheese) served with a cup of cream of crab soup. I love the Gabby Crabby so much that I recreated the recipe, which I'll often make in my Brooklyn apartment when I'm feeling a bit homesick; I ring my dad and put him on speaker to make it feel more authentic. —Farideh Sadeghin, test kitchen director
Open-Face Crab Salad Sandwich (Gabby Crabby)
Similar to a tuna melt, this simple crab sandwich, adapted by test kitchen director Farideh Sadeghin, comes from Pirate's Cove in Galesville, Maryland.
Time: 20 minutes
Ingredients
1 lb. lump crabmeat
2 tbsp. mayonnaise
1 1⁄2 tbsp. minced romaine lettuce
1 tbsp. Old Bay seasoning
1 tsp. Dijon mustard
Kosher salt and freshly ground black pepper
6 slices Muenster cheese
6 slices toasted bread
3 tomatoes, sliced
Instructions
Heat oven to broil setting. Combine crab meat, mayonnaise, lettuce, Old Bay, mustard, salt, and pepper in a bowl; divide into 6 mounds and place on a baking sheet. Top each with a slice of cheese and broil until cheese is melted and golden, about 3 minutes. Top bread with 2 slices of tomato and then the crabmeat. Serve with cream of crab soup.