Small Fry: How to Prepare Shrimp for Tempura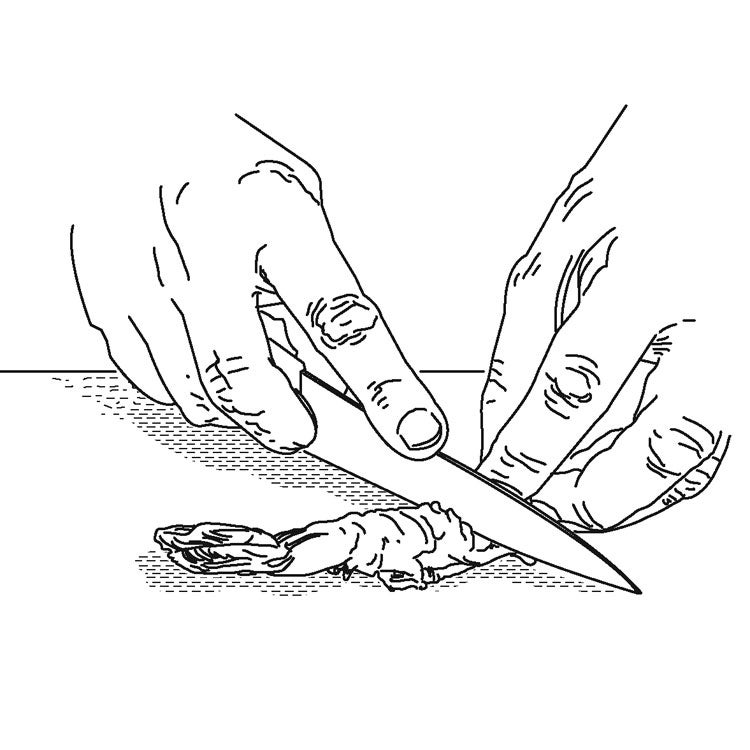 Like other low-fat proteins, shrimp shrink when they're cooked. And when they shrink, shrimp curl up. To keep them flat for use in tempura (see "Light as a Feather"), chefs make several shallow "release" cuts in the shrimp before frying. Here's how it works.
Start by peeling and deveining the shrimp with a paring knife. Run the tip of the knife between the flesh and the shell along its curved back until you reach the flared tail. Then, using your fingers, peel the shell, including the legs, away from the flesh in one piece; gently pull out the vein. illustration: Brenda Weaver
Flip the shrimp over, belly side up, and holding onto the crustacean's tail, make 4 or 5 very shallow perpendicular cuts along the length of the belly, being careful to not slice all the way through the shrimp.
Turn the shrimp over, back side up, and using your fingertips, gently pinch while pressing down on the flesh, moving from tip to tail to straighten and lengthen it. Your shrimp is now ready for battering and frying, a process through which it will remain straight. illustration: Brenda Weaver